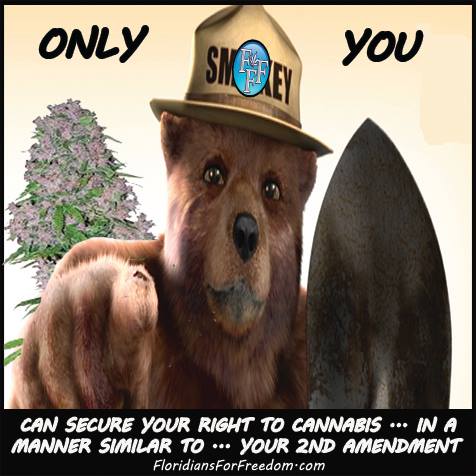 Only the "Right Of Adults To Cannabis" amendment can secure your RIGHT to possess, cultivate, and use cannabis in a manner similar to your 2nd amendment right to "keep and bear arms" … think about that for a minute.
Whether you agree or disagree with Americans right to gun ownership, the strength of this protected right is clear and viewed my many as absolute. Floridians For Freedom​ believes adults right to whole plant cannabis should be comparable and hopes you agree.
Once secured by voter approval, adult Floridians will enjoy the strongest personal protection regarding our ability to grow, possess, and use cannabis within our homes and private property. The Right Of Adults To Cannabis amendment will serve as the foundation for the most sensible legislation anywhere in the country regarding personal use sales, patients rights, and industrial (hemp) cannabis.
If you also believe Floridians should have a right to cannabis, this amendment is worthy of your support. The future of cannabis within Florida is in your hands but action is needed. Our statewide volunteer organization is growing and ready for your involvement.
Join your counties FFF group page (links below), invite friends, and like Floridians For Freedom Main FB page to stay informed. Or simply download, copy, and circulate for signing by friends & family, co-workers, or basically anyone who's registered to vote in Florida the Right Of Adults To Cannabis amendment petition.
#MakeCannabisYourRight
https://floridafreedomgroup.com/index.php/downloadable-pdfs/rightofadultstocannabis
LIKE
Floridians For Freedom main page –https://www.facebook.com/FloridaFreedom/
JOIN
1 ALACHUA – https://www.facebook.com/groups/1256317004382246/
2 BAKER – https://www.facebook.com/groups/946758885373261/
3 BAY – https://www.facebook.com/groups/489699817875641/
4 BRADFORD – https://www.facebook.com/groups/1734194673482234/
5 BREVARD – https://www.facebook.com/groups/1558483907776931/
6 BROWARD – https://www.facebook.com/groups/1673235649615295/
7 CALHOUN – https://www.facebook.com/groups/576458695843101/
8 CHARLOTTE – https://www.facebook.com/groups/1678018762467446/
9 CITRUS – https://www.facebook.com/groups/792947737478024/
10 CLAY – https://www.facebook.com/groups/178729692492451/
11 COLLIER – https://www.facebook.com/groups/931170323617662/
12 COLUMBIA – https://www.facebook.com/groups/1674435972816846/
13 DESOTO – https://www.facebook.com/groups/1737586519804600/
14 DIXIE – https://www.facebook.com/groups/704629079671552/
15 DUVAL – https://www.facebook.com/groups/890271824423964/
16 ESCAMBIA – https://www.facebook.com/groups/1566324247021973/
17 FLAGLER – https://www.facebook.com/groups/881011538682957/
18 FRANKLIN – https://www.facebook.com/groups/893560054092205/
19 GADSDEN – https://www.facebook.com/groups/1664308713835950/
20 GILCHRIST – https://www.facebook.com/groups/264323267238817/
21 GLADES – https://www.facebook.com/groups/1674479719357475/
22 GULF – https://www.facebook.com/groups/1026845380695153/
23 HAMILTON – https://www.facebook.com/groups/628682610603452/
24 HARDEE – https://www.facebook.com/groups/897019830419251/
25 HENDRY – https://www.facebook.com/groups/1682401188665423/
26 HERNANDO – https://www.facebook.com/groups/890710211042750/
27 HIGHLANDS – https://www.facebook.com/groups/1685153525033874/
28 HILLSBOROUGH – https://www.facebook.com/groups/1098354720197333/
29 HOLMES – https://www.facebook.com/groups/1668380056783603/
30 INDIAN RIVER – https://www.facebook.com/groups/888288751288505/
31 JACKSON – https://www.facebook.com/groups/1494876707486276/
32 JEFFERSON – https://www.facebook.com/groups/961840870557491/
33 LAFAYETTE – https://www.facebook.com/groups/1096242363740393/
34 LAKE – https://www.facebook.com/groups/835238859932374/
35 LEE – https://www.facebook.com/groups/980503202022732/
36 LEON – https://www.facebook.com/groups/1744463625784501/
37 LEVY – https://www.facebook.com/groups/829374550500894/
38 LIBERTY – https://www.facebook.com/groups/794714947306711/
39 MADISON – https://www.facebook.com/groups/1720857101462129/
40 MARION – https://www.facebook.com/groups/1557225844592459/
41 MARTIN – https://www.facebook.com/groups/824762507670506/
42 MANATEE – https://www.facebook.com/groups/553452764813901/
43 MIAMI-DADE – https://www.facebook.com/groups/1537619703232997/
44 MONROE – https://www.facebook.com/groups/1062621497129217/
45 NASSAU – https://www.facebook.com/groups/754160381386703/
46 OKALOOSA – https://www.facebook.com/groups/962981857110144/
47 OKEECHOBEE – https://www.facebook.com/groups/1661756080715998/
48 ORANGE – https://www.facebook.com/groups/452809348249994/
49 OSCEOLA – https://www.facebook.com/groups/901601686627988/
50 PALM BEACH – https://www.facebook.com/groups/914622975259467/
51 PASCO – https://www.facebook.com/groups/972093946202832/
52 PINELLAS – https://www.facebook.com/groups/1747919048775563/
53 POLK – https://www.facebook.com/groups/428451510681333/
54 PUTNAM – https://www.facebook.com/groups/1151198218225017/
55 ST. JOHNS – https://www.facebook.com/groups/342861919171286/
56 ST. LUCIE – https://www.facebook.com/groups/1765446077020702/
57 SANTA ROSA – https://www.facebook.com/groups/743438862467426/
58 SEMINOLE – https://www.facebook.com/groups/1200990879928945/
59 SUMTER – https://www.facebook.com/groups/930307723749606/
60 SUWANNEE – https://www.facebook.com/groups/1564382737186145/
61 SARASOTA – https://www.facebook.com/groups/1695143807410187/
62 TAYLOR – https://www.facebook.com/groups/976553175750503/
63 UNION – https://www.facebook.com/groups/169633133408967/
64 VOLUSIA – https://www.facebook.com/groups/496357233870254/
65 WAKULLA – https://www.facebook.com/groups/1656616794603876/
66 WALTON – https://www.facebook.com/groups/487379844787281/
67 WASHINGTON – https://www.facebook.com/groups/1674691549474850/