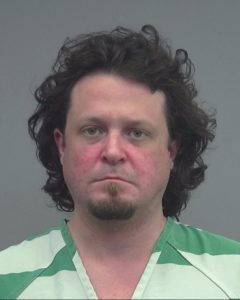 Gainesville (WTFF) – A Florida man was arrested after inhaling an air duster and trying to drive away from police.
An officer responded to a call at 1715 NW 10th Ter on Wednesday, according to a media snapshot released by the Gainesville Police Department.
The 911 caller said there was a person "slumped over the wheel" in their running vehicle. The vehicle was in drive, and all the doors were locked.
The responding officer found 33-year-old David E. Yates inside, passed out. The Florida Man had a "10oz can of compressed air duster" next to him.
She banged on the window to wake him up and "Yates slightly lifted his head and inhaled deeply from the canister and passed out again."
The officer then banged on the passenger side window. The huffed-up creature managed to lift his head again. He looked at the officer and defiantly took another huff.
Then he put his hands on the wheel. It was go time.
The officer broke a window and tried to put the vehicle into park.
Yates broke free and drove north on NW 10th Ter.
He didn't make it very far. He drove off the roadway, hit a vehicle, drove over someone's yard, hopped back onto the road, hit a mailbox, and then finally hit another vehicle before his vehicle broke down.
Yates was arrested and charged with Hit and Run: Leave Scene, Moving Traffic Viol: Driving with License Suspended, Dangerous Drugs: Inhale, and Flee/Elude Police. Bond was later set at $45,000.