THE source for fucked Up Florida news flashes: WTFFlorida.com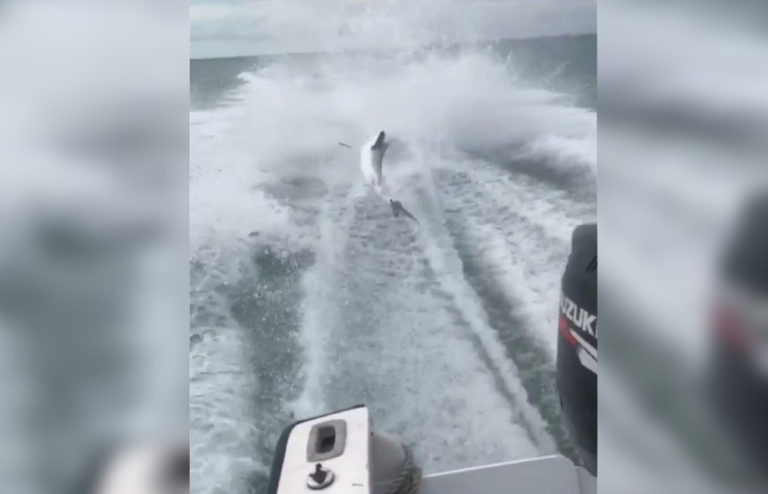 [UPDATE]
We found the driver.
No charges are being pressed, but we have decided to start a petition, demanding the perpetrators of this violent act serve jail time and pay 1000 hours of community service to Manatee County, under the supervision and coordination of the Florida Fish and Wildlife Conservation Commission:
His name is Michael Robert Wenzel, he's 21 years old and lives in Palmetto, FL.
https://www.everipedia.com/michael-wenzel-1/
We submitted this information to the FWC and they replied to us via email:
We have already received this information and it is currently being investigated. Case number FWSW17OFF012872.

Thank you.
So far no charges have been pressed. We will keep you notified if anything changes. Thank you to all of our readers for banding together and pursuing this issue.
E. Jon Weiffenbach, an attorney said to be representing all the men on the boat, told ABC Action News, "None of the individuals in the video have been charged criminally and no one has been arrested."
He is well-known for his animal cruelty
One of the tippers mentioned that the "FWC is already aware. In fact, everyone in the fishing community within the Tampa bay area knows about this guy."
Apparently it's nothing new to them, in fact they brag about it on social media…
People really came together to locate this man and his friends. Below are several screenshots that are circulating the net. The problem now is legally prosecuting them for animal abuse… to begin with, some of their parents are politicians and lawyers, which protects them under the unwritten "good 'ol boys" rule. Secondly, police have not yet issued arrest warrants for animal abuse.
---
[Original story below]
The Florida Fish and Wildlife Conservation Commission has been alerted to a video circulating on multiple social media sites showing a group of individuals traveling at high speed on the water dragging a shark behind the vessel. Full Story ⤳