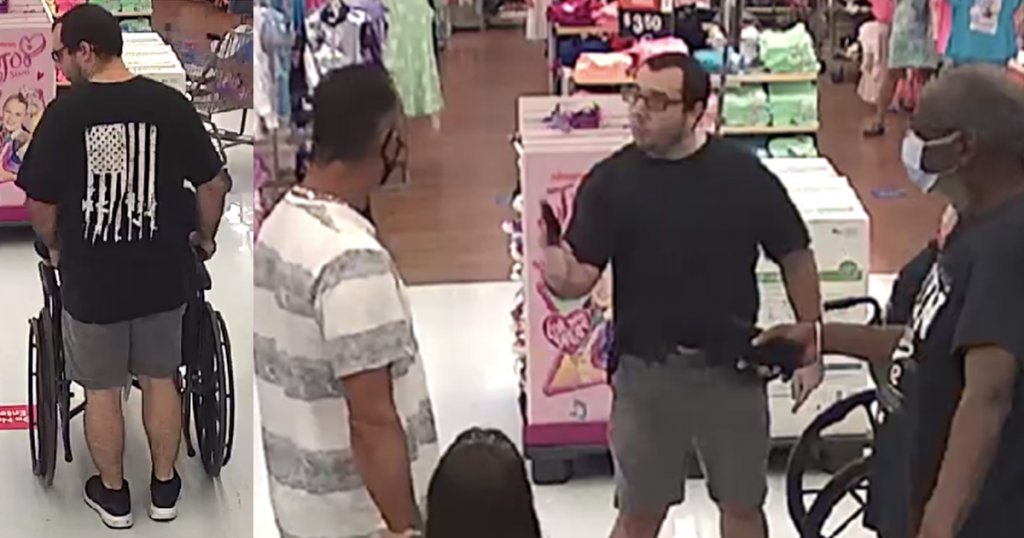 Royal Palm Beach (WTFF) – An unmasked Florida man brandished a firearm and threatened the life of a masked man in Walmart during an apparent argument.
"You think you're big and bad because you pull out a gun?" asked the Palm Beach County Sheriff's Office in a Facebook post asking for crime tips.
The incident took place on July 12 at the Walmart in Royal Palm Beach name.
"The suspect has been identified and is cooperating with the investigation," said PBSO spokeswoman Teri Barbera, via email Wednesday. "The investigation is still open and active." (Sun-Sentinel)
His name has not yet been released.
Security camera footage reportedly shows the suspect pushing an older man in a wheelchair through the store on Sunday afternoon.
While the gunman was not wearing a mask, the man in the wheelchair had a red neckerchief over his mouth.
For historical purposes, it should be stated that this took place in one peak of a viral pandemic, where health officials recommend wearing masks to prevent transmission. Yesterday there were over 10,000 new cases of COVID-19 in Florida. (John Hopkins)
They were approached by a man wearing a mask, and after some words were exchanged, the suspect flipped his middle finger up and pulled out a handgun from his waistband.
The Florida man made a death threat while holding the firearm.
A young girl can be seen trying to grab the masked man's hand and pull him away. Another masked man also intervened.
The gunman left the store in a white Chevy Equinox., according to the Palm Beach County Sheriff's Office.