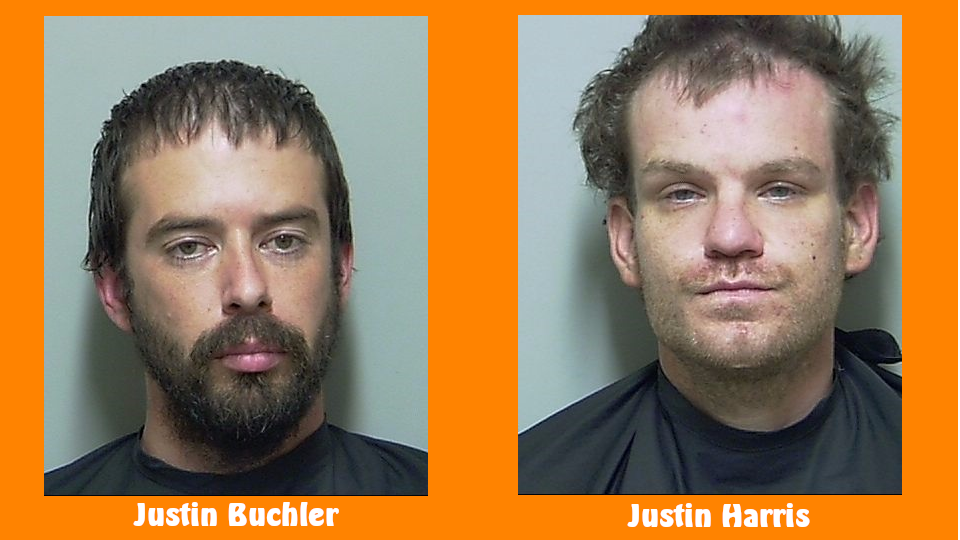 Melrose (WTFF) – Two Florida men were arrested after a home was burglarized.
Putnam County Sheriff's deputies say they found the Melrose home and storage areas ransacked on Thursday.
As deputies were on scene investigating, 28-year-old Justin Harris of Melrose approached the property from a wooded area.
Harris matched the description of one of two men reported by the caller.
Deputies found a key to a BMW that was in the garage of the burglarized home.
Deputy Gentry and K-9 Halo worked to find 36-year-old Justin Buchler of Keystone Heights.
This Justin tried to bury himself in a gopher tortoise nesting area.
When deputies approached him, Buchler was "throwing dirt on himself from the gopher tortoise nest in an attempt to conceal himself."
In Florida, the gopher tortoise is declared threatened and it is illegal to kill, harass or destroy gopher tortoises, their eggs or burrows.
The pair of Justins reportedly stole "Snap-on tools, a 2001 motorcross bike, jewelry and professional RC cars totaling more than $30,000."
Deputies found a firearm, hydrocodone, oxycodone and meth in the white Ford truck used by the suspects.
Both Justins were arrested.
Harris was charged with possession of a weapon by a convicted felon, two counts of burglary, two counts of burglary and damaging property. He was taken to the Putnam County Jail and held on $33,000 bond.
Buchler was charged with possession of a weapon by a convicted felon, methamphetamine possession, two counts of larceny, two counts of drug possession and two counts of endangering a threatened species. He is held on $36,000 bond.
---
MyFWC Florida Fish and Wildlife commented, " While over 350 species use gopher tortoise burrows for shelter, humans are usually not one of them."