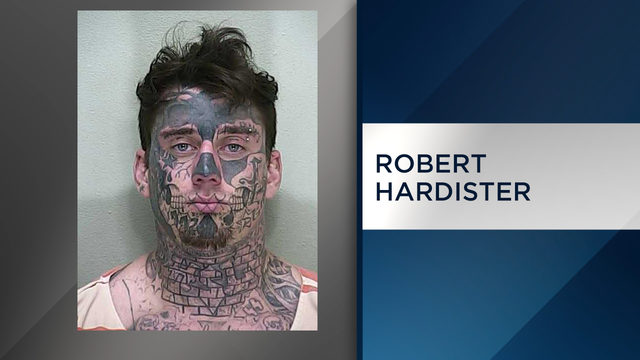 Ocala (WTFF) – A man full of face tattoos was arrested after stealing a car.
Marion County deputies and their K-9 found the suspect in Ocala.

Robert Wade Hardister, 26, had stolen a 2005 Hyundai in Putnam County earlier, and was spotted pulling into the parking lot of the Queens Garden Resort at 3340 S. Pine Ave., in Ocala. This is one of those places with weekly rates, and probably hourly too (though they don't advertise that).
A reviewer on Google describes the very typical Slowcala motel experience: "A dump, and we were approached by two different people that asked if we wanted to buy some crack. That along with nasty stinking room's I checked out ten hour's later.I HIGHLY ADVISE NOT STAYING AT THIS PLACE.."
Obviously they've never stayed at a hotel in Flurdah before. Random people saying "wanna buy some crack!?" is the price you pay for not staying at a Disney hotel, which are isolated from reality.
Anyways, Robert got out of the car and ran when he saw the fuzz.
The K-9 tracked him down to the 500 block of SE 35 Place, where he surrendered.
He's facing charges of grand theft auto.
Source: wftv.com
Here's another bright-eyed mugshot from a previous arrest. He was found sleeping in a Jupiter Walmart parking lot in a Ford truck he had stolen… Really. wptv.com