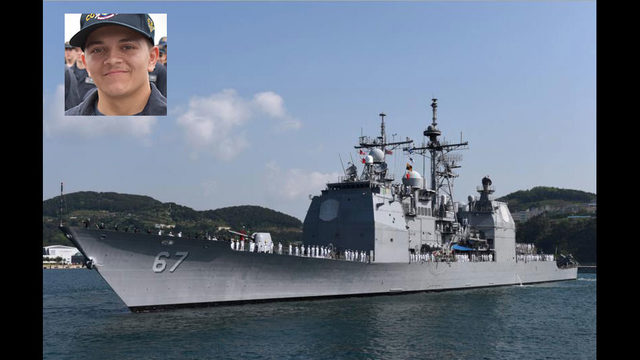 A Putnam County sailor from the cruiser U.S.S. Shiloh was discovered … still on board the ship.
The Navy Times reported on Thursday that Peter Mims, 23, was found hiding in the engine room.
It was assumed that Sims fell from the ship, which was in waters off the coast of Japan this week. In 2009, a young sailor from South Carolina named Christopher Geathers fell from the Shiloh in Tokyo Bay. His body was never found.
Both the U.S. and Japanese Navies put in more than 50 hours trying to find him, covering roughly 5,500 square miles. But their search was suspended on Sunday.
Mims was raised in the small town of Interlachen and joined the Navy in February 2014 and reported to the Shiloh in August that year.
Action News Jax spoke to Mims' sister on Tuesday after word reached Florida that her brother was missing.
Mims, who'd been missing since June 8, will be transferred to the USS Ronald Reagan, an aircraft carrier, for a medical evaluation.
"I'm relieved that this sailors family will not be joining the ranks of our Gold Star families who have sacrificed so much for our country," Admiral Charles Williams, head of the US Navy contingent comprised of the USS Ronald Reagan.
Officials said he had earned a number of awards, including the Navy and Marine Corps Achievement Medal, the Navy Marine Corps Overseas Service Ribbon and the Sea Service Ribbon. He was last promoted in August 2015.
Source: actionnewsjax.com