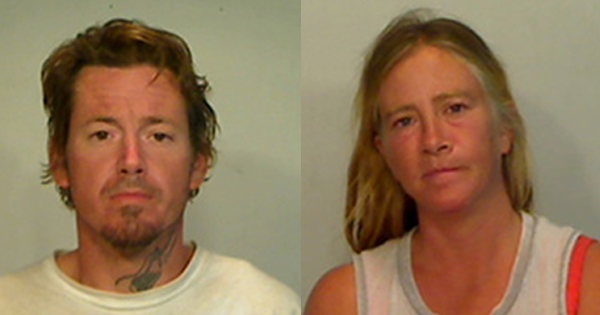 Key West (WTFF) – A Florida couple was arrested after reportedly having sex in a woman's yard.
The homeowner told police that she was reading a book when she heard individuals arguing in the side yard of her residence Monday afternoon, according to an arrest affidavit collected by the Smoking Gun.
When the 52-year-old stepped outside to investigate, she found 36-year-old Stephen James Dean and 49-year-old Teresa Ann Behan having sex up against a small stone barrier wall.
She called the cops.
Key West Police officers arrived and noted that the two subjects were "laying in the side yard of the residence."
Dean and Behan explained that they were "walking around town" and "stumbled upon" this residence.
There were "No Trespassing" signs around the home, the police report notes.
The Key West woman said Dean "passed out and fell over the wall," and that she "was just trying to comfort him."
When the cop mentioned that they don't live there, she changed her story and said that her "music promoter 'James' lived" at the residence.
Dean was more honest and "spontaneously uttered" that they were having sex in the yard.
"It should be noted," the officer writes in the report, "a strong smell of an Alcoholic beverage was emitting from the two of them. The two could not put together a complete sentence and were slurring words."
Both were arrested for trespassing and lewd and lascivious behavior.
Behan also earned two felonies after reportedly kicking and punching an officer during her arrest.
En route to the Monroe County Jail, Dean stated that he was going to kill an officer. Once in jail, he told another officer that he would kill them too, even if they "try to hide from him in Bahama Village or Miami." That earned Dean one felony for threatening to kill two Key West cops.
Dean and Behan are scheduled for arraignment on October 11.