Key West (WTFF) – A tourist from Maryland will face animal cruelty and molestation of a protected species charges after posting a video of himself pouncing on a pelican at a Key West marina, police say.
31-year-old William Hunter Hardesty of Davidsonville, Maryland attacked the federally protected brown pelican while onlookers laughed.
He posted the video to Facebook on March 7 and wrote in the comments:
"Next time ima eat him for dinner !! Wonder what they taste like."

Hunter Hardesty, Tourist
The footage appeared to have been taken at the Key West Seaport, according to Officer Bobby Dube, a spokesman for the FWC's Florida Keys division. (Baltimore Sun)
"We never want to harm wildlife, and that's what he was doing," Dube said. "He was enticing the pelican and then jumped on it."
After pouncing on the poor creature, Hunter Hardesty held the bird captive.
The pelican was able to peck the pesky tourist with its beak to escape.
In a stunningly oblivious effort, the Maryland native seems to have started a GoFundMe page with the goal of raising $20,000. "Give this man a second chance," it reads, saying there was "no intention on hurting the bird but more of just a bad decision…" (screenshot)
The money begging post was made immediately after one reading "I'm so hungry I could eat a pelican!!!"

Floridians and fellow animal-loving comrades roasted him for being such a terrible person.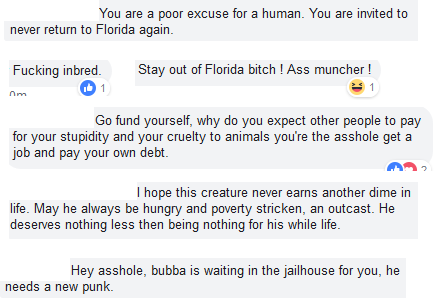 When Hardesty was 28, he was charged with robbery, second-degree assault and theft, as reported by Capital Gazette.
Monroe County Sheriff Rick Ramsay "shared the anger of those who contacted me regarding this video," saying Monday that "This type of behavior — the abuse of animals — will not be tolerated on my watch and I know our law enforcement partners at the FWC and at the federal level share that mindset. I would like to thank those who quickly brought to this my attention and to the men and women of the Sheriff's Office and the FWC who responded quickly."
So far there's been no warrants filed, as the case is still being investigated.
There's also pictures that seem to show Hardesty holding a key deer, another federally protected animal, as reported by the Bradenton Herald. Those photos are part of the investigation.
A petition was started by OneProtest: Throw The Book At Maryland Man Who Attacked A Federally Protected Pelican
Hardesty has already left Florida.
"He's back home in Maryland," Dube said. "If you look at his Facebook page, he's one of those guys that doesn't care. We'll have to wait."