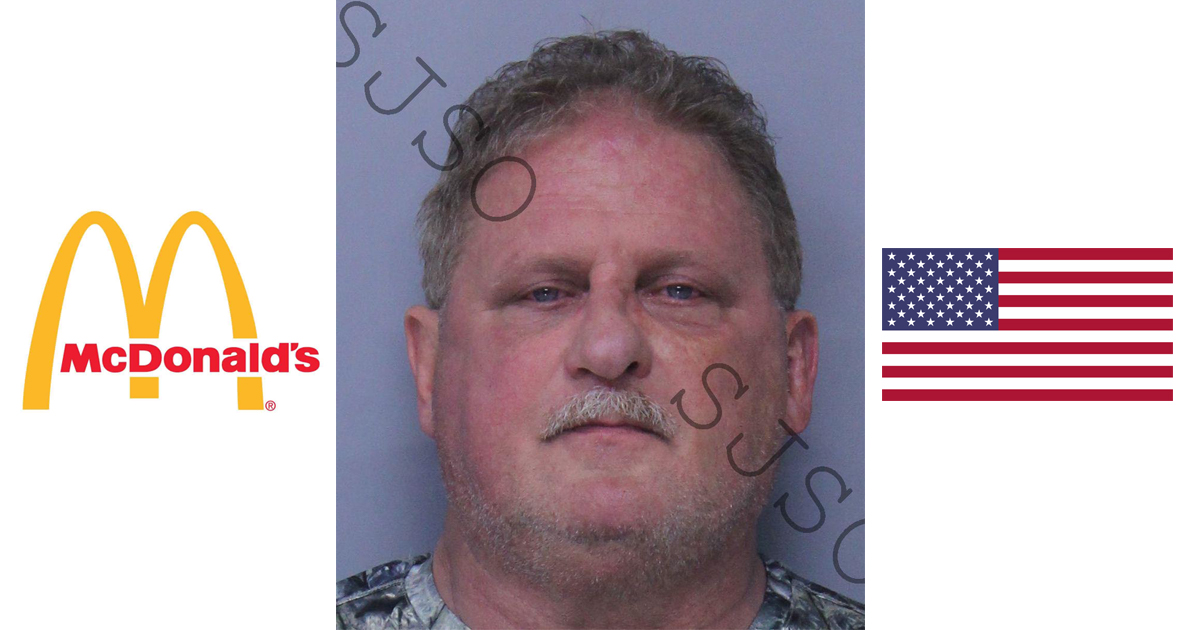 St. Augustine (WTFF) – An altercation at McDonald's ended with a Florida man pulling out a knife and a stun gun after yelling "get out of my country!"
John Jay Smith was arrested and charged with two counts of Aggravated Assault with Deadly Weapon, and a count each of Burglary with Assault or Battery and Armed Trespassing for his role in the incident.
Yes his name is actually "John Smith," like the explorer who helped colonize Jamestown.
On May 23 he got into a "verbal altercation" with a group of people in the parking lot of the McDonald's at 2431 US 1 S, Saint Augustine.
Mohamed and his friends were eating in the McDonald's parking lot, which is next to Walmart of course, when the Florida Man parked his truck next to their vehicle and was talking loudly on his phone. They ignored him at first.
John Smith then pulled out a pocket knife and started raising his voice, according to the arrest affidavit.
"Are you American boys?" he asked loudly. They ignored him.
"Get out of my country!" yelled John Smith, according to a witness/victim. The Florida Man continued screaming:
"You motherfuckers you don't deserve American food! I'll shoot you you motherfuckers, move! Get out of here you fuckers!"
Another witness/victim reports him as saying:
"Don't eat in my country mother fuckers!"
One of the friends suggested they get inside their vehicle and leave.
That's when John Smith went back to his vehicle, grabbed his "zapper," as he called it, and "started chasing them with an electric taser."
John Smith "slammed the door hardly" on Mohamed's leg and stuck his arm into their vehicle trying to taze Mohamed in the face.
The taser was on. Luckily, Mohamed was not zapped.
Mohamed was able to escape with his friends, barely. He hit a pole as he was backing out.
The cops showed up.
Not surprisingly, an officer reported that "John had the smell of an alcoholic beverage emitting from his person and he was slurring his words."
He told the cops, "I am an American and the guys by the vehicles were making ruckus so I told them to get out of here and one of them pulled a gun and they left in a red vehicle."
John Smith was arrested. No gun was found.
In the back of the patrol car, he kept saying "they killed my son," and "my son was a Marine."
He was booked at 4:54 a.m. and released at 11:41 a.m. that same day with an $8,500 bond.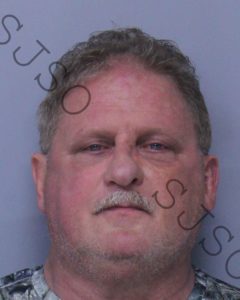 John Jay Smith was born in Alachua County. This isn't surprising, considering the fact that Alachua County is home to many Stupid Redneck Assholes who are terrified of anything that isn't white. They are not to be confused with good Florida Rednecks, who populate many parts of Florida, including Alachua County.
He now lives in Elkton, where "the most prominent landmark is the Post Office," according to Wikipedia. A whopping 5,653 people live there, according to Neighborhood Scout, who say there is "just one neighborhood" there.