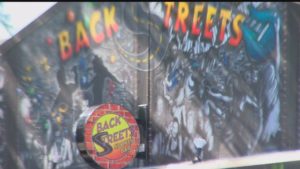 CAPE CORAL, Fla. – Wednesday, police arrested a Cape Coral man suspected of drunk driving, but it wasn't any ordinary DUI case.
Officers said Jason Dickson crashed his car into a light pole on Cape Coral Parkway early Wednesday morning, and then walked away.
NBC2 found out how chicken wings helped crack the case.
A gaping hole full of wires and a danger message is all that's left of the street light that used to stand in the 900 block of Cape Coral Parkway.
Investigators said Dickson took it down, and then in a bizarre twist, the food he left behind in his wrecked car and other items were his undoings.
Cape Coral Police responded to the scene to find the BMW sedan crunched up against the light pole. The fixture was pushed up and torn out of the ground.
"Light pole could have killed someone coming down. It's totally appalling," Cape Coral resident Sophie Higginson said.
The car was busted up, abandoned, and blocking three lanes of traffic. Officers looked inside for clues. They found a to-go box full of chicken wings and a beer koozie from BackStreets Bar.
Investigators knew the wings and koozie were from BackStreets, so they headed around the corner to check it out further. That's when they found Dickson walking back to the bar.
"It was a good thing that we had these wings. It was a way of tracking him, good detective work," Higginson said.
Police said Dickson eventually admitted he crashed his car.
"They have no value for life or property. They should be liable for that, fixing it," Higginson said.
Investigators said Dickson's blood alcohol level was almost twice the legal limit.
"It just makes me sick that people can do these kinds of things without thinking twice about it," Marie Pelonero said.
Police arrested Dickson and charged him with DUI, property damage and leaving the scene of an accident.
He's now out of the Lee County Jail on bond.
Source: nbc-2.com