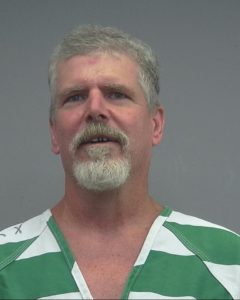 The town of Micanopy doesn't have much going on, except for a fully nude strip club that serves mediocre coffee (I-75 makes me sleepy, don't judge).
54-year-old William Markham is one of the rare folks who actually lives in Micanopy.
His home is across the street from Micanopy Cooperative School on Northwest 2nd Avenue, and he often complains about all the parents parking on the street outside as they wait to pick up their pesky children.
He decided on this particular Tuesday that enough was enough…
According to the Alachua County Sheriff's Office, he came out of his house, shirtless and holding a rifle, and yelled at the parents parked in front of his home:
"Get off my road!"
He continued to threaten them with the rifle, drunk with rage and Florida stupor.
Next, in a glorious WTF Florida moment, he channeled the spirit of Cletus from the Simpsons, and repurposed his dinner for the greater cause of intimidation:
According to gainesville.com,
He then picked up a dead possum, threw it at a parent and said he would eat it for dinner.
Yes, he actually used a dead possum as a projectile weapon. Yes, he actually mentioned his plans to eat that possum later.
Deputies said the principal and staff quickly offered the parents shelter inside the school building with their children until sheriff's deputies could arrive. ASO received a call about the incident at 2:08 p.m. School is usually dismissed at 2:15.
Markham was charged with aggravated assault with a deadly weapon without intent to kill and booked into the Alachua County Jail, according to news4jax.com.