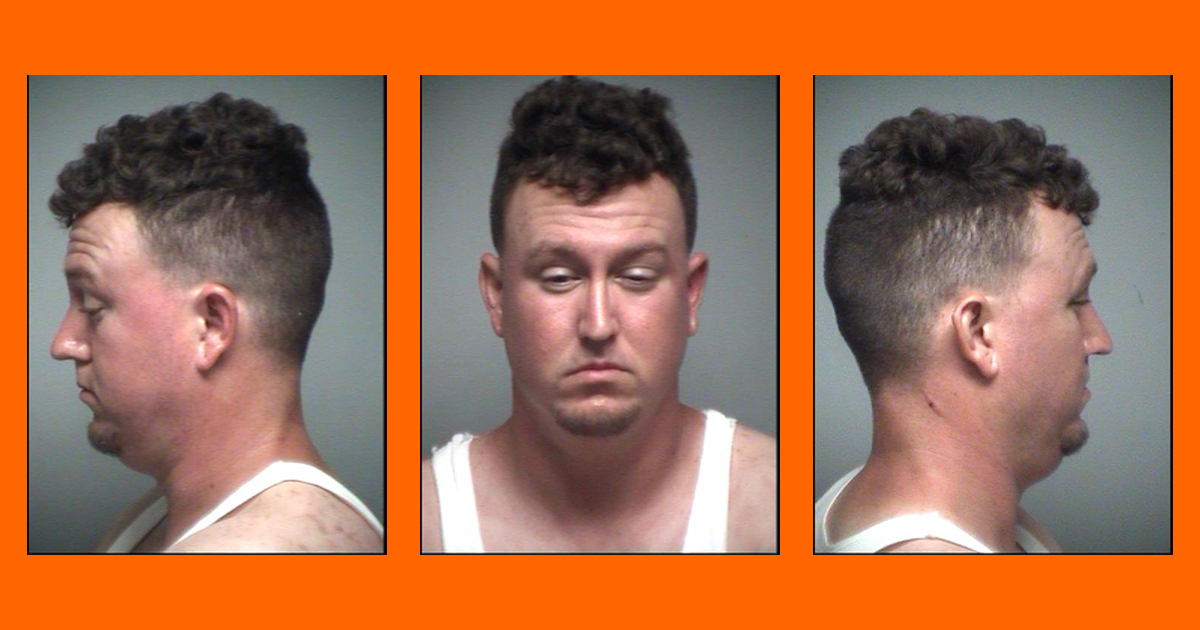 Eustis (WTFF) – A Florida man is facing a litany of charges after driving drunk.
Saturday night had turned into Sunday morning when Hunter Padgett's red Ford pickup truck sped past a Florida Highway Patrol vehicle, according to the arrest affidavit.
It was after 3 a.m.
The Florida Man was speeding recklessly down the "center painted median," as reported. His taillight was broken, his tag expired.
Lights. Sirens.
The 31-year-old Florida Man drove on for about 200 yards, "even though there was enough space" to pull over. Football fields are 120 yards long.
Instead of pulling over to the side like a normal person, he "stopped in the middle of an intersection."
Tap, tap.
The Florida Man rolled his "window down a quarter of the way." A strong odor of alcohol escaped into the nostrils of the FHP officer.
"Driver's license, registration, and proof of insurance," the law man demanded.
Hunter "fumbled around his wallet and struggled" to get his ID out.
His words were slurred, and his eyes were "bloody shot glassy," when he replied:
"I just came back from getting some pussy."
Hunter claimed he only had two beers. He seemed agitated and nervous.
A trooper asked him where he was coming from.
"None of your fucking business," he slurred, breath heavy with alcohol. He was quite fed up with this trooper already.
The determined Florida Man put his Ford pickup truck in gear.
Skrrr!
He sped off while yelling, "Fuck you!"
Heading westbound on SR 44, he tried making a right hand turn onto northbound E CR 44, but "crashed his Ford pickup truck into the wood line against a tree."
The Florida Man leaped out and fled on foot towards a crowd that gathered because of the commotion. Again, he didn't make it very far. Troopers detained him as he yelled "Fuck you!"
A series of obscenities and racial slurs spilled from the Florida Man's mouth, including:
"Nigger! Pussy white boy! Fucking Mexican!"
While he was attempting to offend the trio of races equally, he was also "rolling around on the floor" for some reason. He was unable to complete basic sentences. The crazed creature was at one point able to express that his back and chest hurt. The troopers said in the report, "that's all we could understand."
He was taken to Florida Hospital Waterman handcuffed to the stretcher. He was "extremely uncooperative" and started yelling at staff. "Fuck you speak to my attorney!" was the reply when troopers said he had to do a sobriety test. He yelled more and more obscenities at them.
Then he started to undo his belt and pull his dick out.
The feral Florida Man was medically cleared and taken to jail.

He threatened to piss in the cop car on the way over.
"Upon arrival at the Lake County jail" it took "multiple officers" to get him out of the backseat. He barked more racial slurs at the correctional officers and was put in a "special restraint chair" before going to a "private holding cell."
The Eustis, Florida man faces charges including: Flee/Elude Police, Moving Traffic Violation, Resist Officer, DUI, and Hit and Run Accident – Unattended Vehicle.
$8,000 bonded him out the next day.
Hunter Craig Padgett is a Florida Native.