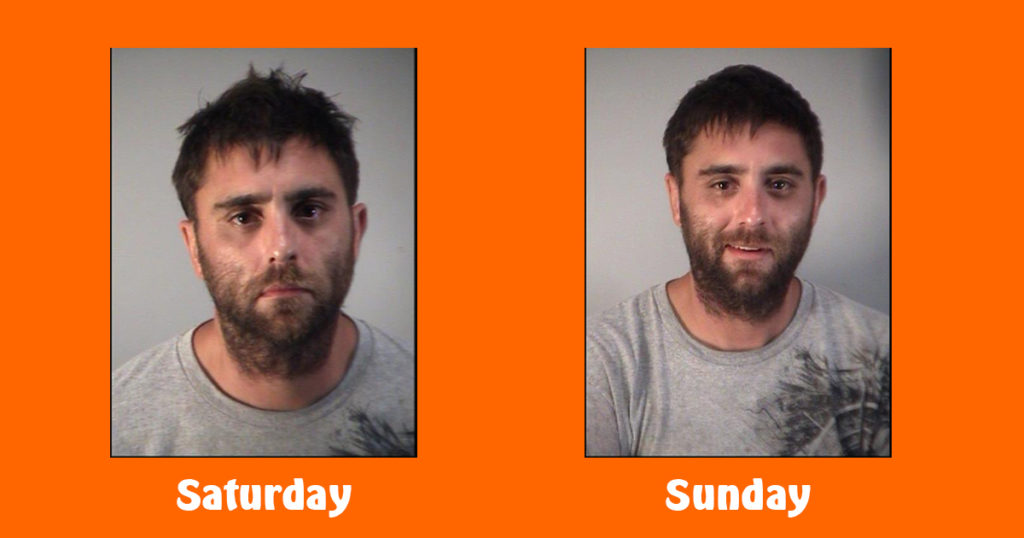 Leesburg (WTFF) – A Florida man was arrested twice in one weekend for prowling with meth on Saturday, and masturbating in a gas station with coke on Sunday.
On Saturday, an employee at Alliance Labs in Leesburg called the police for a "possible burglary" when she saw a man pulling on all the doors and peeking through the windows around 4:40 in the morning, the arrest affidavit states.
36-year-old Kevin Jameson was spotted by police walking southwest through the parking lot of the Gateway Plaza shopping center, just south of Alliance Labs.
Jameson told police he was "just walking." He explained that he was at Denny's earlier, and then went to Sleep Inn to try and charge his phone to call a Lyft driver. They kicked him out after two minutes, he said. After that, Jameson "admitted that he pulled on all the door handles and even rang the doorbell" at Alliance Labs in an attempt to charge his phone.
He then told police that he was currently jogging and trying to get to his hotel room at Rodeway Inn, though the officer noted he was walking in the complete "opposite direction" of the hotel, which was actually northeast.
The officer asked Jameson why he didn't just stop at one of the open businesses along his way to charge his phone.
Jameson said he was "looking for girls."
Since he was unable to provide a legitimate reason for being at a closed business, Jameson was handcuffed for loitering/prowling, identified by the witness, and taken to the Lake County Jail where they found three 30 MG capsules of Amphet Salts on him, a drug that contains extended release Amphetamine and Dextroamphetamine.
He earned two charges on Saturday:
Possession of Controlled Substance – Methamphetamine
Loitering or Prowling.
Jameson was released about four hours later.
On Sunday, Jameson went to the Mobil located at 225 North Blvd E. in Leesburg around 12:40 in the afternoon, according to the next affidavit.
The store clerk told police that Jameson entered and "proceeded to walk around the store staring at her."
She "became nervous" due to the fact that he wasn't buying anything.
Jameson continued perusing the aisles for about five minutes, until the store clerk asked him to leave.
After he left, she checked the security video to see if he had stolen anything.
She "became offended and disgusted" by what she saw.
On the video, at this new angle, she saw Jameson "take his penis out of his shorts and begin masturbating before she asked him to depart the store."
The officer observed the video, and noted the part where Jameson "looks in the direction of the clerk, licks his right hand" and begins masturbating with his penis out in plain view for about 20 seconds.
Jameson was found at the intersection of N. Canal St. and E. Cleveland St., arrested and taken to the Lake County Jail again.
This time they found a small baggie with coke residue inside a cigarette pack on him.
Sunday's charges:
Drug Paraphernalia Possession or Use
Sexual Offense – Exposure of Sexual Organs
His current bond remains at $26,000.
According to the arrest records, Jameson was born in Lawrence, Massachusetts. He provided a home address in Sanford during the first arrest, and the address for Rodeway Inn the second time.