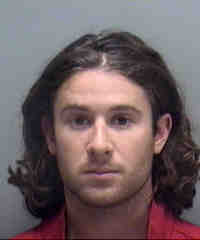 NORTH FORT MYERS, Fla. – A North Fort Myers resident was tackled by a naked man who had leapt off his roof Monday evening – and the scene only got more bizarre from there.
Deputies were called to 17000 block of Old Bayshore Road just before 7 p.m. to deal with 21-year-old Gregory Matthew Bruni of Venice.
The resident said he was lying in bed when he and his wife heard what sounded like thunder.
The man went outside and saw Bruni running around on the roof. He allegedly jumped off and onto the victim, hitting him in the shoulder and knocking him down.
Deputies say Bruni then ran into the house and pulled a large-screen TV off its stand and dumped the contents of a vacuum onto the floor.
Bruni then headed toward the couple's son's bedroom, where several guns were stored, so the man's wife fired three warning shots from a .38 revolver.
The arrest report says Bruni fell to the floor – but then began pleasuring himself.
He got up off the floor, ran into the son's bedroom and began rubbing clothing on his face.
The resident got a shotgun and held Bruni until two deputies arrived.
They cleared the home and tried to detain Bruni, who they describe as flailing his arms and legs and talking, but not making any sense.
Bruni tried to flee the deputies, and they ended up using a Taser to subdue him.
He was taken to the hospital, but doctors told deputies they couldn't identify the substance Bruni was on during the incident.
Bruni is charged with two counts of Criminal Mischief, Battery, Occupied Burglary and resisting without violence.
Deputies say Bruni was booked into jail Friday after being released from the hospital.
Source: https://www.nbc-2.com/story/20649108/naked-assailant-terrorizes-nfm-family