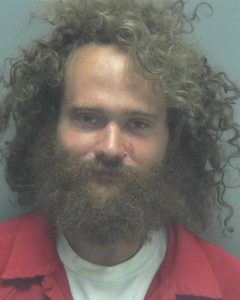 Cape Coral (WTFF) – A naked Florida man was arrested on June 22 around 1:30 in the morning after reportedly assaulting officers.
27-year-old John Hennessey (no relation to the Hennessy Cognac) is facing 11 charges including 2 counts of Aggravated Assault w/ Deadly Weapon (Without Intent to Kill), Resisting Officer, Damage Property (over $200, under $1000), 4 counts of Aggravated Assault on Officer Firefighter EMT etc., and 2 Out of County Warrants.
According to the press release, someone called about a wild Florida Man "with a knife trying to set a vehicle on fire" on NE Pine Island Lane. He reportedly threw a rock through a home's window as well.
Cops showed up and found Hennessey in his own front yard "completely naked and holding a knife." This is illegal in America.
The Cape Coral creature "was chanting and dancing around a fire." According to the report, he was "speaking gibberish," and had burnt himself in the fire.
Upon seeing the cops, Hennessey "dropped the knife and grabbed a large wooden stick and started swinging it around at officers."
He got tased.
While in handcuffs he was still chanting in an "unknown language."
The report states that "Hennessey had possibly consumed psychedelic mushrooms."
"Possibly."
Schizophrenia could also be blamed, and is a more likely culprit. In the report there was no mention of any medical test to prove or disprove either guess.
Psilocybin Mushrooms can produce intense experiences, though bad trips rarely end with violence (unlike alcohol). Nakedness is of course to be expected, because clothes are not for the temporarily enlightened.
It's important for every tripper to have a sitter. The effects of psychedelic drugs greatly depend on set and setting, and the mind of the individual ingesting the substances. These are not things you simply take to have fun and party. Please be responsible, and respect your body and the substances you put inside it.