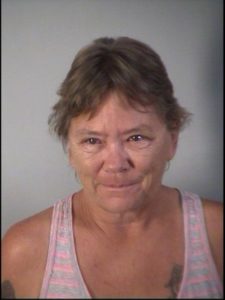 Lady Lake (WTFF) – A drunk Central Florida woman was arrested after slamming a golf cart into some landscaping.
Around 10 on Sunday night an officer showed up to a home on Lauren Ln. to speak with 50-year-old Suzette Martin. She lives in Orange Blossom Hills, which isn't quite The Villages, though it pretends to be.
Like most Florida Womans, she was "speaking with loud, slurred speech," according to the arrest affidavit.
She was asked to sit down by a sergeant. The sergeant told the officer that the Florida Woman had earlier "made a statement that she drank 14 or 15 beers," and that she was "drunk" by her own words.
Reportedly, she had "driven the golf cart out of the garage and slammed into the nearby landscaping." She moved the golf cart forward, throwing a passenger off (they were later transported by Lake EMS, we're not sure if they died or not, but they probably didn't).
The officer asked if she'd like to perform some Field Sobriety Exercises.
"No because I know I'll fail them," slurred the glassy-eyed Florida Woman. There was a "strong odor" of an "alcoholic beverage emanating" from her. The cops explained what was going to happen.
"Do what you have to do," she resigned to the arrest.
She asked if she could use the bathroom first.
Escorted by the cops, she "walked with staggered steps" to the end of the driveway. She even managed to collide with a parked car during her quick trip. She was "extremely talkative" and asked why she was being arrested.
Breath sample time. She stated there was no need for one. Why?
"Because I am fucked up," she stammered, and "going to jail."
She told the officers she had emphysema, COPD, and lung cancer, and that's why she was unable to provide a breath sample, reportedly.
After being taken to the Lake County jail and charged with DUI (UNLAW BLD ALCH DUI ALCOHOL OR DRUGS), she bonded out the next day for 1,000 dollars.
Suzette is a Florida Native.