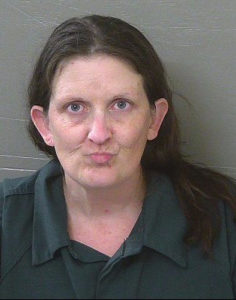 Molino (WTFF) – A Florida woman was arrested for allegedly shooting at her husband after he came home with divorce papers.
41-year-old Wendy Maureen Dennis has been married to her Florida man for eight years now, reports North Escambia.
On Tuesday, her husband called 911 and said that his wife had shot at him several times at their residence on North Highway 95A, and that she was now heading toward Molino Road.
Escambia County deputies spotted her vehicle and pulled her over.
In the back seat was a .22 caliber rifle. The Molino, Florida woman was arrested.
Her husband explained that everything was going fine and they were on their way to the Tax Collector's office to have the papers notarized.
That's when she reportedly walked to her car and pulled out the rifle. She yelled at him and started firing shots in his direction.
Her husband locked himself inside the house and called 911. He was not injured.
Wendy was charged with aggravated assault with a deadly weapon.
It was not reported if they're trying to work things out and get back together as a result of her actions.