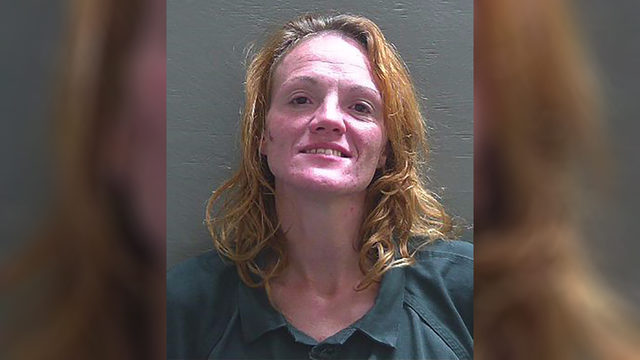 Pensacola (WTFF) – A Florida woman was arrested after allegedly dancing naked outside a Waffle House, blocked traffic and threatening an employee.
Escambia County Sheriff's Office (ECSO) deputies arrived to the Waffle House at 6913 Pensacola Boulevard in response to a Baker Act.
An employee said that when he showed up to work on Monday, a Florida woman was trespassing.
Because of her behavior, she was asked to leave.
38-year-old Freedom Ryder Zobrist continued causing problems, according to the report collected by WEAR TV.
She eventually ran away, leaving all her stuff behind.
The employee tidied up the belongings and moved them behind the Waffle House.
Freedom returned and sat at the back door.
"Leave," said the Waffle House employee to the Florida woman.
She started cussing at him and refused to go away. In true Florida fashion, she threatened to grab a gun and shoot him in the face and everyone in the restaurant.
Then she walked to the middle of the parking lot, pulled her pants down to reveal her sexual organs and started dancing.
The report mentions that she tried to grab the Waffle House employee's genitals as he approached her.
Then she licked both sides of his face.
She was asked to leave again. She just poked her finger in his chest.
One witness said the naked Florida woman tried to prevent him from leaving in his vehicle by dancing in front of it.
Freedin Zobris is facing two counts of lewd and indecent exposure of sexual organs, and one count each of disorderly conduct, battery and assault.
She's scheduled to appear in court on February 11th.