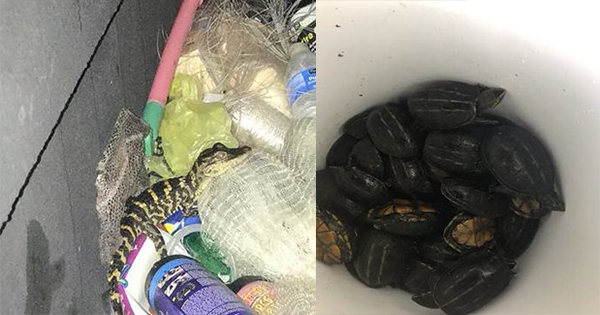 Punta Gorda (WTFF) – A traffic stop resulted in two citations for possession of a foot long live alligator and over forty 3-stripe turtles.
22-year-old Michael Clemons and 25-year-old Ariel Machan-Le Quire were pulled over by Charlotte County deputies after running a stop sign, reports CBS.
They told the cops they had just been collecting frogs and snakes from under an overpass.
Not to be outdone by #Floridaman, a #FloridaWoman pulled this alligator out of her pants this morning during traffic stop after being asked the standard "Do you have anything else?" She also had 41 3-stripe turtles in the car. @MyFWC responded to take over the investigation. pic.twitter.com/UdZsDBvh9f

— Charlotte County Sheriff's Office (@CCSOFLSheriff) May 6, 2019
The deputies asked for permission to search their bags, and permission was granted by Clemons.
Inside deputies found 41 3-stripe turtles.
Machan-Le Quire was asked if she had anything else on her.
She reportedly pulled out a foot long live alligator from her yoga pants.
Florida Fish and Wildlife rescued the reptiles and released them back into the wild.
Clemons and Machan-Le Quire were each cited for possession of the reptiles and bag limit.
---
Charlotte County Judge Peter Bell later sentenced the Florida woman to six months probation and 200 hours of community service, according to the Miami Herald.