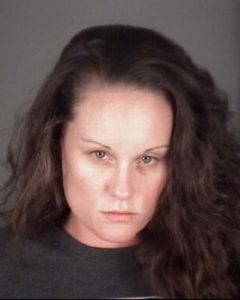 Holiday (WTFF) – A Florida woman is in jail after reportedly assaulting her geriatric husband.
31-year-old Holly Jane Akers faces a charge of felony battery on a person 65 or older.
Pasco County deputies said her husband, Charles Plagens, claimed she hit him on the nose with a vacuum cleaner.
This reportedly happened during a cleaning binge early in the morning at their home on Jackson Drive.
The Tampa Bay Times pulled the arrest affidavit, which reads:
Plagens said he argued with Akers after she started cleaning the house around 3 a.m. Tuesday. He moved from room to room to try to sleep, but she followed him with the vacuum cleaner. Akers struck him on the bridge of the nose with a vacuum cleaner attachment, Plagens told deputies, causing a minor abrasion that did not require medical treatment.
Akers acknowledged the argument, the report said, but denied hitting her husband with the vacuum cleaner part. Because of Plagens' statement and a visible injury, deputies arrested Akers and took her to the Pasco County jail, where she was being held Wednesday without bond.