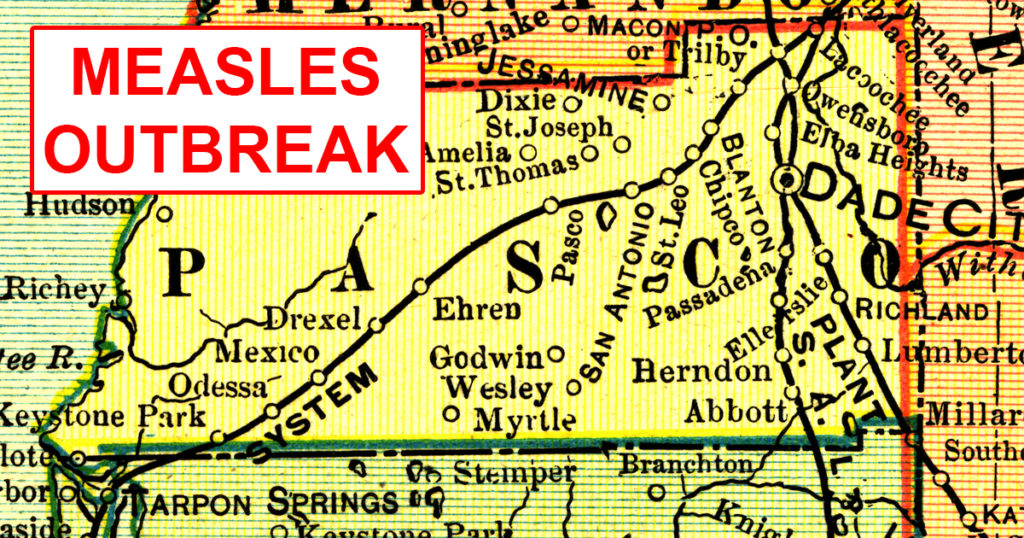 Pasco County (WTFF) – A third case of the measles in Florida has been confirmed.
The Florida Department of Health said that a child under the age of 4 in Pasco County has tested positive for the extremely contagious disease. (ABC News)
The case was reported on May 16.
Cases were also confirmed in both Pinellas and Broward Counties this year.
Pasco County takes the cake, as it was the first case where the illness was acquired in Florida.
Florida is one of 26 states that house the 940 measles cases nationwide. (CDC)
Federal health officials call it the worst outbreak since 1994.
The majority of people who got measles were unvaccinated, reports the CDC.
The Florida Department of Health says: "Measles is spread through the air by breathing, coughing or sneezing and is highly contagious. The symptoms of measles generally begin approximately seven to 14 days after a person is exposed to someone with measles. Symptoms include fever, runny nose, cough and rash. Anyone who has these symptoms should contact his or her healthcare provider. There is no specific treatment for measles."
Experts at the CDC (US Centers for Disease Control and Prevention) have blamed the measles resurgence on the spread of misinformation about vaccines.
The Health Department says the best way to protect yourself is by immunization.
---
Vaccinate Your Crotch Goblins is helping to fight against misinformation by addressing anti-vaxxing in a humerous manner. Below is one of their memes, please share to raise awareness: