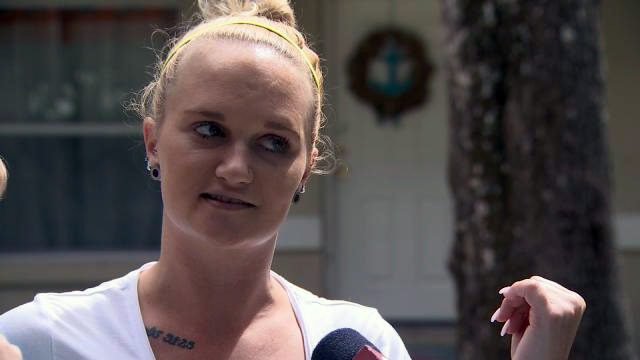 Leesburg (WTFF) – A Florida woman is being investigated by DCF after being seen on video shoving her 3-year-old son's head into a toilet.
Kaitltyn Wolf told WFTV that the "swirly" was just a "joke."
At first she was going to wash her toddler's mouth out with soap, but decided to punish him more creatively after seeing a movie where a kid got his head shoved into a toilet.
TRIGGER WARNING:
"It was a joke between the three of us. My sons and I horseplay rough," Wolf said. "We stuck his head in the toilet and flushed it. And my older son was recording it."
DCF is working with the state's attorney office to make their conclusions on whether it was a joke or not.
"His head was never under the water, his face never got wet. It was maybe the top or this part of his hair," she said. "It's scary to think I might lose my children over this — over a joke that we played."
Her boyfriend's ex-girlfriend, Misty McCormick, was the one who actually posted the video on Facebook.
Misty Minnie Boo later posted: "My intentions were NOT for revenge on my ex's new girlfriend." Misty Minnie Boo is a self-described "Southern Mom of 2 boys."
"My main concern was this women was around my kids when I wasn't there and after seeing a video like this, I'm just suppose to sit back and relax and think oh my kids are ok? No!!!!!"
Misty went live to "clear things up."
Meanwhile, Kaitlyn Wolf is receiving death threats on the internet.
"The police actually came on Saturday and stayed on the road because people were threatening to come here and kill me," Wolf said. "They have been patrolling the area."
"It was just a game," Wolf said. "I didn't inflict harm on him. He didn't have any bruise or cuts. He was laughing during the video."
"Everybody just stop Facebooking me and telling me you want me to die," Wolf said. "I get it."
UPDATE: The State Attorney's Office has notified Leesburg police that it will not press charges against the mom. (Daily Commercial)
---

Loading ...