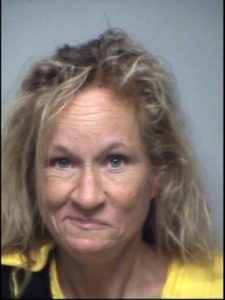 Clermont (WTFF) – A Florida woman was arrested for allegedly pushing her boyfriend and kicking officers after she took "boost bars" and cocaine to end her life.
Sheriffs responded to a call about a suicidal woman, later identified as 36-year-old Robin Guidry. She's a Florida Native.
According to the arrest affidavit, a sheriff was able to call the woman's cell phone and convince her to meet at the entrance of her subdivision.
She admitted to taking about fifteen "boost bars" and some cocaine to end her own life. "Boost bar" is a slang term for the anxiolytic Buspirone, a profitable "anti-anxiety" drug that is often peddled to Americans by doctors and taken "safely" and legally along with antidepressants. It's different than Xanax, which is a benzodiazepine (more of a sedative).
EMS arrived and she was able to respond to their questions, so they refused to transport her.
As a result, she was placed into the back of a cop car.
While being escorted she "began to resist" and "kicked the deputy multiple times."
Her boyfriend showed up and said that she'd been sleeping all day after coming off a cocaine high from the night before.
According to her boyfriend, "she was very angry over being cut off from receiving any further disability checks." She took a bunch of pills and shoved him out of the way before driving off in her pickup truck.
EMS decided to transport her now, and she was taken to South Lake Hospital by ambulance. She was monitored for a bit and then released.
She was not offered any mental health care or drug treatment, or at least that wasn't mentioned in the report.
She was then taken to jail and charged with Domestic Battery and Battery on LEO. Her bond remains unfulfilled at $6,000.