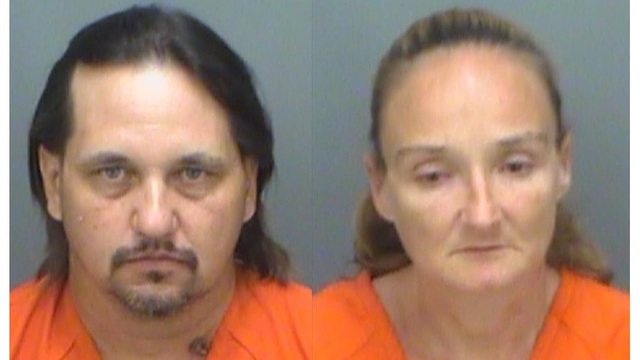 Largo (WTFF) – A Florida couple reportedly stole a motorized shopping cart from a Largo Walmart and drove it to a bar.
50-year-old Jeffrey Robert Sabiel and his girlfriend Santa Marie Walters, 32, both live at 712 New Jersey St. in Clearwater. The two lovebird Trampites earned a lot of Florida Points for their antics on Thursday. They earned 12 Florida Points right off the bat for some standard Florida Tags like stealing from Walmart, and getting drunk, and then went above and beyond their call of duty.
Security cameras caught them riding dirty on a motorized shopping cart at a Walmart on Missouri Ave. in Largo, according an arrest affidavit collected by WFLA. The carts are reserved for handicapped people, and Americans who are too fat and lazy to walk through the store to buy more diabetes-inducing "food."
They continued off the property and headed west on Rosery Road.
Because they're Trampites, they decided to take the stolen cart to a bar.
They parked outside Jimmy's Sports Bar and went inside to drink, reports Patch. Police arrived and found the Florida Man and Florida Woman drinking inside. That's basically all these creatures do all day.
Predictably, they denied the theft. Both were arrested on charges of grand theft and taken to the Pinellas County jail. It was not reported if they were able to finish their drinks.