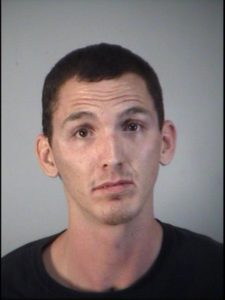 Clermont (WTFF) – A Central Florida man was arrested after he allegedly pulled a knife out and threatened people at a Waffle House.
26-year-old Donald Degrave is facing two charges of Aggravated Assault with a Deadly Weapon Without Intent to Kill. He was arrested Tuesday morning, April 17, 2018, at around 4:00 in the morning.
Per the arrest affidavit, he was hanging out behind the Waffle House on 720 Cagan View Rd. drinking alcohol with one of his soon-to-be victims. Degrave told the other guy that "he wanted to 'hit on' one of the female servers."
The other guy told him to "leave the server alone," and Degrave argued with him and pulled out a black pocket knife which he pointed at the victim.
Degrave then allegedly threatened the life of both him and the waitress.
The "argument ended" and the victim "returned to his seat inside the restaurant to inform the female server" about what Degrave was saying outside.
Another argument broke out, and finally Degrave left the restaurant.
The enraged Florida Man kicked the store window as he left, and then got on his bike and peddled away.
Several witnesses agreed that he was "loud and obnoxious" and pulled a knife out as described by the victims. All of them described the Florida Man as a "tall white male, wearing a black shirt, glasses, and red pajama pants."
Deputies located Degrave at his home on Winding Water Way and arrested him.
He's in the Lake County jail with a $4,000 bond remaining.
Degrave is originally from the hillbilly state of Pennsylvania, where many Florida Mans are born.