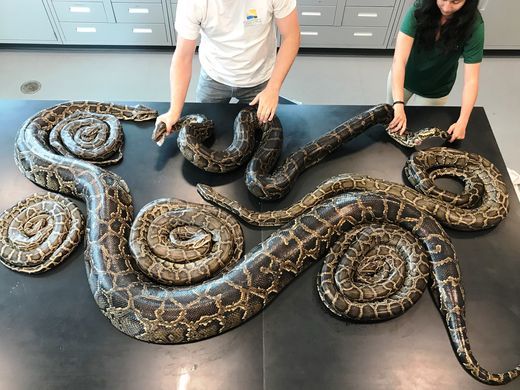 "It was a frenzy," said wildlife biologist Ian Bartoszek of the Conservancy of Southwest Florida.
A Burmese Python named Argo was outfitted with a tracking device three days before he led researchers to a the largest trove of pythons found yet in Collier County, reports Naples News.
"We locate him and then there is another male, and another male and another," said Bartoszek. "We know what all the males are there for, so it's like, where's the female?"
They found her in the tall grass… a massive egg-laying python that weighs 115 pounds. She was with seven male Burmese pythons.
These breeding "aggregations" are becoming more common in Southwest Florida and the western Everglades. Burmese pythons have been steadily spreading for years, and even have built-in compasses to help them return home if they ever get lost or stolen by a Florida Man.
"You look at some 250 pounds of python and you just think, what did it take to make that?" Bartoszek said. "How much native wildlife did it take to produce those?"
The Burmese pythons are an invasive species in Florida, much like Snowbirds.
There are 25 python hunters around Broward, Miami-Dade and Collier counties. Since 2017 they've removed 922 invasive pythons, said Mike Kirkland, who heads the South Florida Water Management District's hunting program.
"All together they were more than 6,600 feet and weighed over 15,000 pounds," Kirkland said. "We estimate they ate over 150,000 animals; that's what it would take to get to those numbers."