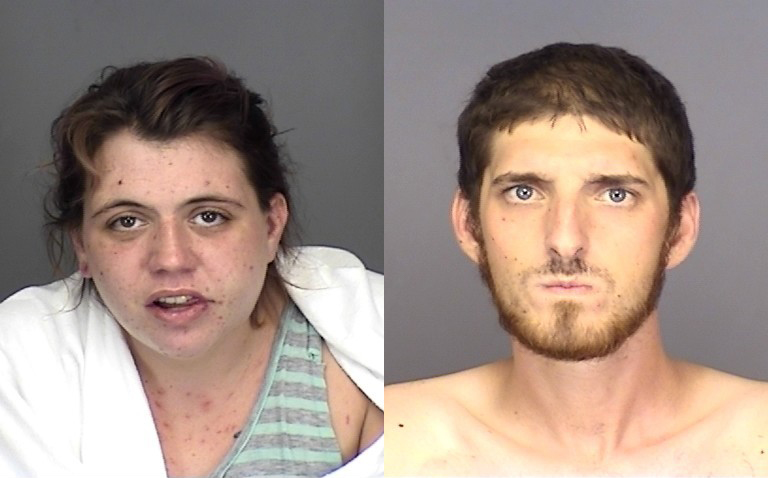 The lives of Florida Couples remain a mystery to many. They are reclusive creatures who only venture out late at night to party, and are rarely seen in broad daylight.
Thanks to the blunders of an Avon Park duo, we have yet another narrative of what really happens inside these Florida Couple habitats.
It all started on a Sunday evening, August 27th, when Christopher Thomas Jacobs, a Florida Man, tried changing a light bulb.
Because he's from Florida, that very simple task of changing a light bulb resulted in him getting electrocuted.
He survived and went to the hospital.
This near-death experience didn't stop his Florida Woman girlfriend, Christina Ann MacCornack, from arguing with him. Upon his return from the hospital that night, the couple continued arguing about drugs.
All too often, Florida Couples numb their miserable existence with chemicals, and when they run out of their grandparent's money, things can get ugly…
Christina, fed up with Christopher's inability to find more drugs, tried to run out of the house butt naked.
He grabbed the naked creature and dragged her back inside the house.
The argument continued, and Christina stabbed Christopher with a knife. She later said that she was simply giving him a hug and trying to console him. In her story, Christopher was threatening to stab himself, and that's how it all went down. It was totally an accident, and all his fault…
During the altercation, Christopher punched her in the face. Apparently, she wasn't doing a very good job of consoling him. She also got stabbed in the leg somehow.
Someone called the cops on these feral lovebirds, because they were making too much noise at their home on South Lake Verona Boulevard. This was around 5:30 in the morning. They had been up the entire night arguing and doing God knows what else…
When the Highlands County deputies showed up, Christina attempted to use the decaying resources of her brain to fabricate a story…
She told the cops that a "black man with a mohawk" had stabbed her in the leg and then stabbed her boyfriend in the stomach while they were sitting on their porch.
Nice try…
Detectives soon learned that Christina was lying, and that it was her who was wielding the knife. They also report finding wounds on her leg and hands.
This lovely Florida Couple was taken to jail for their domestic dispute.
Christina was charged with aggravated battery with a deadly weapon, and her boyfriend was charged with felony domestic battery.