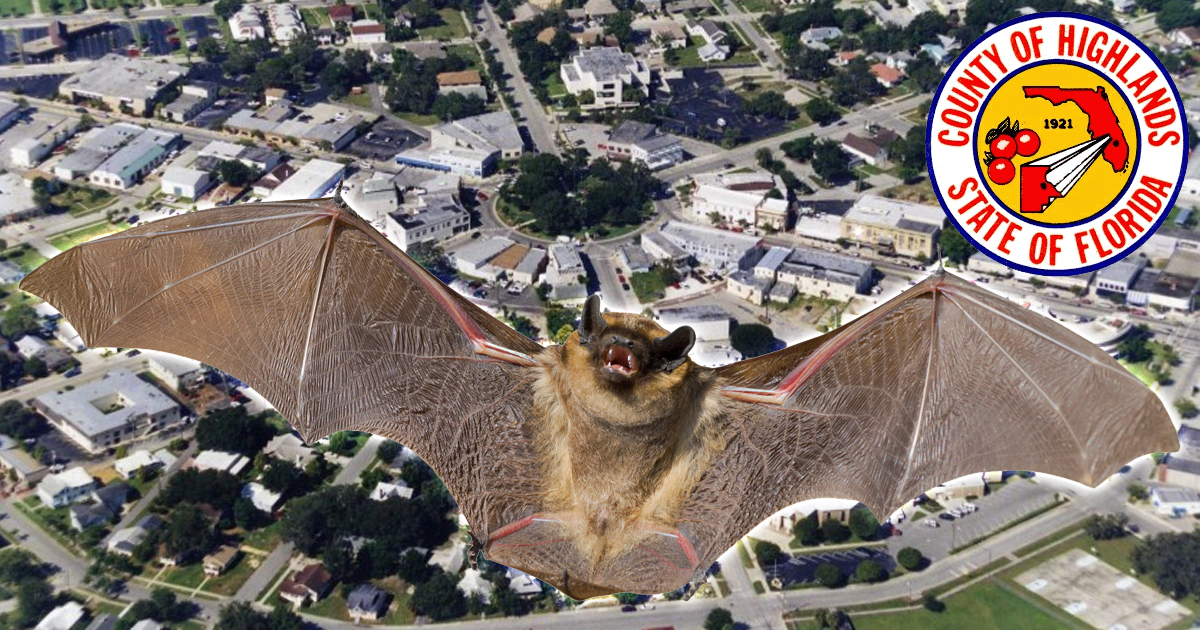 Sebring, FL (WTFF) — A woman died after she was bitten by a rabid bat which has not yet been turned in.
The Highlands County Florida Department of Health confirmed the death, but could not offer any additional details due to HIPAA laws. Unconfirmed sources state that she was middle-aged.
The woman did not seek medical attention, according to an official statement.

The Highlands News-Sun interviewed Lt. Clay Kinslow, head of Animal Services under the Highlands County Sheriff's Office, who had this to say about it:
"At the end of the day, a bat is a wild animal, if you get bit by one, you're in a bad situation."
He stated that the infected animal could still be flying around, since nobody has found it yet.
If you are unlucky enough to get bit by this bat, or any wild animal for that matter, please get it looked at. There are health clinics in every county, seriously use your brain and get bites checked by a medical professional.
Also, prevention is everything, so get your pets vaccinated, and don't allow them to run free. Never feed wild animals. Use common sense, and educate yourself before you or your furry friends end up dying from rabies.
Read more Rabies Prevention Tips at floridahealth.gov
What do I do if an animal bites me?
Immediately scrub the wound with lots of soap and running water for five to ten minutes.
Try to get a complete description of the animal and determine where it is so that it can be picked up by animal control staff for quarantine or rabies testing.
Go to your family doctor or the nearest emergency room.
Call your county health department or animal control agency with your description and location of the animal. The animal will either be quarantined for ten days (if it is a dog, cat or ferret) or be tested for rabies.
If you kill the animal, be careful not to damage the head, and avoid further contact with the animal even when it is dead.
Official Statement
The Florida Department of Health has confirmed a single human case of rabies that was likely transmitted when an individual was bitten by a bat. The individual did not seek treatment at that time and did not receive rabies post exposure prophylaxis. Unfortunately, the individual did pass away.