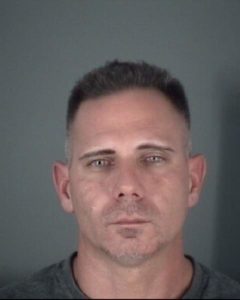 Port Richey (WTFF) – A Florida man was arrested after allegedly pointing a firearm at a Florida woman because she was texting and driving.
On Friday, a little past midnight, 41-year-old Philip Macchio was driving near State Road 52 and U.S. 19. He's an Uber driver, according to the Tampa Bay Times.
He noticed a wild Florida Woman driving behind him, texting while driving. The Florida Man tapped his brakes multiple times, reportedly.
The offending texter tried to pass him.
That's when Philip pulled out his black Glock 19. It was sitting "unsecured and concealed" in his center console, where it waited patiently for a situation such as this one.
The frustrated Florida Man pointed the firearm at her, presumably in an attempt to communicate the idea that texting and driving is a bad thing.
Philip told the cops that just pulled out his cellphone. It totally was not a gun, according to his side of the story.
He was taken to the Pasco County jail with charges of aggravated assault and carrying a concealed firearm.