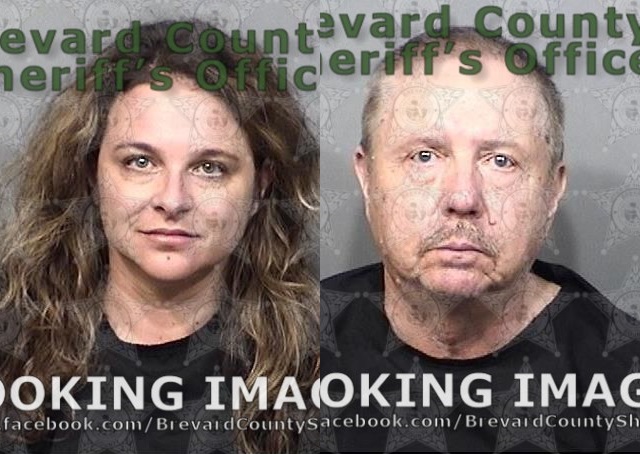 Cape Canaveral (WTFF) – A Florida woman was arrested after allegedly giving her step-father a handjob/blowjob in public on a park bench. He was arrested too.
On Saturday, just before 9 p.m., Brevard County Sheriff's deputies showed up at Manatee Park. Somebody (obviously not a real Floridian) complained about a woman performing oral sex on a man.
According to Brevard Times, deputies saw three families and small children walking around. Note to the tourists: this is Florida, keep your rugrats inside after the sun goes down.
Then a deputy saw him. 65-year-old Robert Spiess, of Cape Canaveral. Belt undone. Shorts unzipped. Dick out.
39-year-old Mandi Falconer, of Cocoa, was sitting on the ground in front of him. Her hands were on his penis of course.
The couple was taken to the Brevard County Jail. They're both facing charges of lewd and lascivious acts.
Robert is a registered Republican, the party of decency and morality, according to the constituents. Editor's note: Democrats are just as perverted, as all humans are. According to Bill Clinton, getting a BJ doesn't qualify as having "sexual relations." We really need a third political party that is honest about impulses, but then all the irony would be lost, and Old Media would have to find new ways to polarize, distract, and entertain.

Public sex isn't uncommon here in the Funshine State. Earlier this year, Brevard Times broke the story when Bad Girls reality TV star Nicole Vargas was arrested for allegedly performing oral sex on a man in public in Cape Canaveral and later beating a witness who complained of the public display. Nicole's from New Jersey, one of the birthplaces of Florida Woman.
---
WTFF News: Fuckery you can count on.