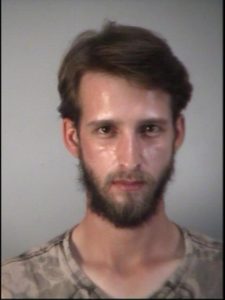 Umatilla (WTFF) – A Florida man was arrested after driving his pickup truck while intoxicated.
On Tuesday, around 7:40 p.m., a corporal from the Lake County Sheriff's Office responded to a trespass complaint on East Cemetary Road, a dirt road in Umatilla with no cemetery.
The corporal spoke to 23-year-old Austin James King and gave him a trespass warning for going into his neighbor's yard, states the arrest affidavit.
The Florida Native was advised to "take it in for the night." Like many people in Umatilla, the "odor of alcohol" was "emitting from his body," and he "was talking in circles" with "slurred speech." The corporal told him to stay off the road and "sleep it off."
He wasn't sleepy though.
Twenty minutes later, while the corporal was pumping gas on SR19, a 1994 blue Ford pickup truck drove by.
Inside the pickup truck was none other than Austin James King, "honking the horn and yelling obscenities," while extending his middle finger towards the officer.
Blue lights flashed as the Umatilla man was chased.
King turned his hazards on and eventually pulled into a parking lot. He refused to exit the vehicle.
An eight inch knife rested on the passenger seat.
Several orders to exit the vehicle were ignored, resulting in a taze.
The first zap didn't do much. King tried to pull the probes out. That's when he got zapped a second time.
King finally got out.
He was arrested and now faces DUI and Resisting Officer Without Violence charges. He bailed out for $2K the next day.