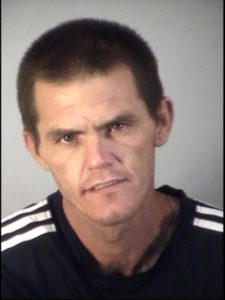 Deland (WTFF) – A Florida man was arrested for allegedly stealing a 4 wheeler.
On Sunday afternoon, a Lake County Sheriff's deputy responded to a call made from Bear Lake Blvd. in reference to a stolen ATV.
The victim was gone for a couple hours and noticed his red 4 wheeler was missing when he came home. The arrest affidavit states that it was locked with chains around it.
The deputy drove down Fonseca Ave. and noticed a red 4 wheeler "with three occupants on it." The 4×4 was "driving at a high rate of speed on public dirt roads with the sun going down," which sounds like something out of a redneck romance novel.
They got pulled over.
The deputy noticed that the driver was 37-year-old Shaun Cannon. He recognized the Florida Man from previous encounters.
Shaun is a Florida Native.
He told the deputy he "borrowed the 4 wheeler from his cousin." Then the deputy read him his rights and he changed the story.
He "received the 4wheeler from another guy in the Lake Kathryn area and he assumed it was stolen but wasn't sure," reads the report.
The victim showed up and assured the deputy that the 4 wheeler was stolen. He provided photographs with distinct markings like a scraped right rear fender to prove it was his.
Shaun Cannon was arrested and jailed with a $7,000 bond that remains unfulfilled.
He's been charged with Unarmed Burglary, Larceny Grand Theft, and Violation of Conditional Release.