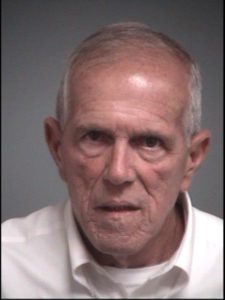 Clermont (WTFF) – An elderly Florida man reportedly stole a purse at church.
Police arrived at Real Life Church at 1501 Steve's Road on Sunday around 11:00 a.m.
The victim said her gold COACH purse valued at $300, plus her cell phone, cash, wallet and keys were missing.
The purse was left open on a table in the lobby of the church, according to the arrest affidavit. It was only a feet away from her as she spoke to family and friends.
Officers found the purse in a family bathroom, missing about $200 in cash.
Video surveillance showed an "elderly white male wearing a dark colored suit, white shirt and red multi-colored tie with white hair and glasses" circling around the table. He snatched the purse and stuffed it under his suit jacket.
Police found 69-year-old Bruce Cutshall sitting in a chair near the rear entrance of the church, the same man in the video.
He was arrested and charged with Grand Theft. He remains in the Lake County jail with a $2,000 bond.