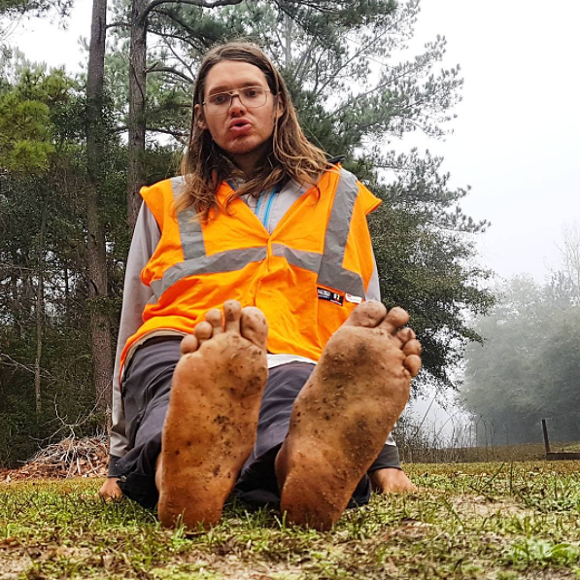 Mark Baumer, an activist who was walking barefoot across the U.S. to raise awareness about climate change, was killed in Florida by an SUV driver who officials say veered off the road.
The Washington Post reports Baumer, 33, was a poet and author who started his barefoot journey in October. He walked all the way to Ohio before the freezing temperatures forced him to take a bus down to a warmer Florida and start his trek from there.
"Climate change is humanity's greatest threat," Baumer wrote in a post raising money through his journey. "Every day corporations continue to profit from earth's destruction. I decided [to] cross America barefoot to see if I could save earth. I know this is a lofty goal, but I hope through my walk I can raise awareness about climate change."
During his trip through North Florida, Baumer documented his experiences on social media and through his daily blog Barefoot Across America. In his last entry, called "My hundredth day on the road," Baumer said he was traveling from Defuniak Springs to Mossy Head, both in Walton County.
"Two people in a white truck stopped and asked if I needed anything," he wrote. "I lied and said I didn't need anything instead of being honest and saying, 'I need you to admit climate change is real. I need you to do everything you can to fight for this earth. I need you to reject everything our fascist president tries to do to this world and its people.'"
Baumer didn't make it to Mossy Head. The Tallahassee Democrat reports he was hit by an SUV as he walked along U.S. Highway 90 on a Saturday afternoon. The Florida Highway Patrol says Baumer was walking westbound on the south shoulder of the road when an eastbound driver failed to stay in her lane and traveled onto the shoulder, fatally striking Baumer. The Democrat reports charges are pending for the driver.
Members of the FANG Collective, an environmental organization Baumer was raising money for with his journey, released a statement on Facebook saying they were "shocked and devastated to learn about the passing of our friend."
"Mark was an amazingly compassionate, empathic, humble, joyful, generous, mindful and caring person," the statement says. "He was a talented poet and artist with an ability to tap into the human experience with his work."
Source: orlandoweekly.com