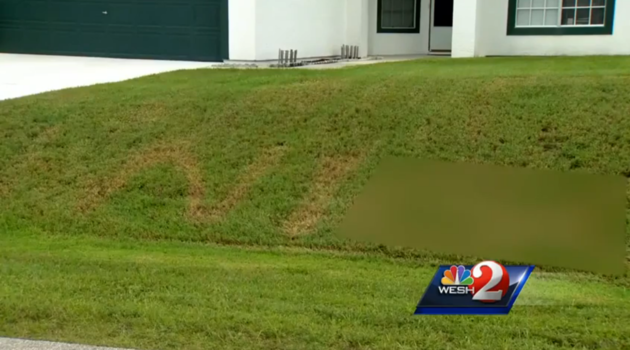 Racial Slur Burned Into Florida Man's Front Lawn
A man in Palm Bay, Florida, says his family feels threatened after vandals used a chemical to burn the racial slur n***** into his front lawn.
Courtney Gordon told WESH-TV that someone likely used weed killer to plaster the hateful word on his lawn, which faces the street. Now everyone can see the 3-foot letters.
"I feel like this is a threat to me and my family, so I'm not too happy about it," Gordon said. "You can see them slowing down when they go by my house, so everybody's just driving by and reading it."
Watch the full interview over at WESH-TV.
He said he may know who did it — a "group of them, and I leave them to God," he said.
Gordon notified police, who are investigating. If the attack is classified as a hate crime, the vandals could face a higher misdemeanor charge, Raw Story reports.
The incident comes as a national debate rages over the classification of hate crimes. Fox News spent airtime last week debating whether a black man shooting two white journalists was one, though bloggers have pointed out that the station and others have been quick to avoid classifying certain white-on-black attacks, like the massacre of nine black parishioners in June in Charleston, as hate crimes.
Source: Huffington Post