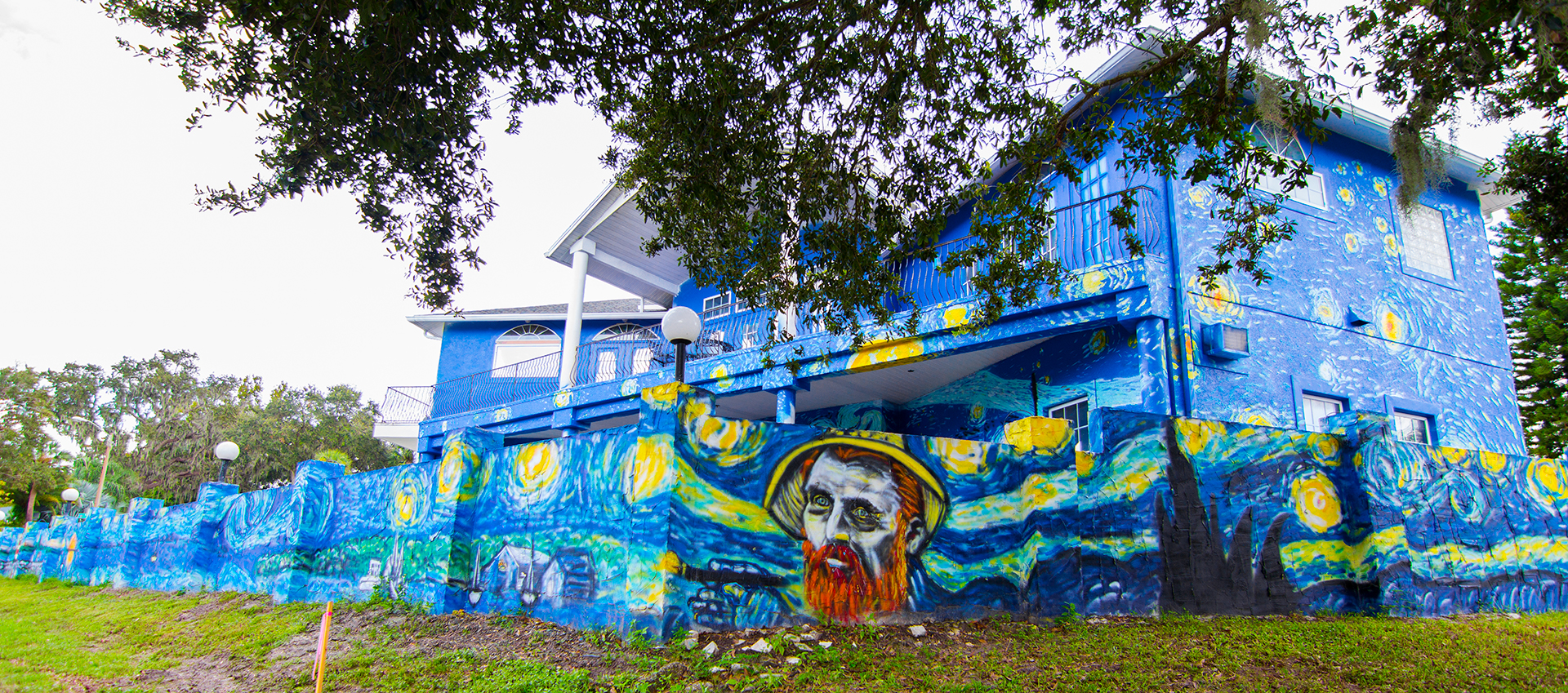 Mount Dora is a little town in Central Florida that is well known for its artsy charm.

Residents and tourists enjoy driving by the "Starry Night" mural, located on the far west side of 5th Avenue just before the road turns into Old US Hwy 441.
Locals often compliment the artist Richard Barrenechea and the homeowner Nancy Nemhauser for keeping up with Mount Dora's artistic and creative vibes.
City officials though, are waging war against the home.
According to the locals, uptight Yankees have moved in and taken over most of the local government positions. They are focused on "normalizing" the town and thwarting the expansion of art.
These new city officials are placating the snowbirds, because they're the ones who visit with loads of disposable income. Anything too exciting may scare them away.
They told her to cover up the mural.
In defiant response, she painted her home to match the wall mural, citing that a code-enforcement officer told her that "the wall had to match the house."
A magistrate said even though it wasn't graffiti (as the city tried to describe it to have it removed back in July), the artwork still had to go.
Now they're calling it a "sign," which could basically be anything under city code:
"Any letter, figure, character, mark, plane, point, marquee sign, design, poster, pictorial, picture, stroke, stripe, line, trademark, reading matter, inflatable device, or illuminated surface, which shall be so constructed, placed, attached, painted, erected, fastened, or manufactured in any manner whatsoever, so that the same shall be used for the attraction of the public to any place, subject, person, firm, corporation, public performance, article, machine, or merchandise, whatsoever, which is displayed in any manner whatsoever."
On September 29, code-enforcement officers gave the homeowner 30 days to cover up the mural, or else she would face fines of up to $250 a day.
Nemhauser has said that she may appeal in Lake County Circuit Court. Hopefully she will win.
Source: orlandosentinel.com
UPDATE – February 2, 2018:
Local 10 reports that the city fined the homeowner Nancy Nemhauser and artist Ludomir Jastrzebski $100 per day because of the mural. Originally that fine was capped at 31 days, but on Thursday, Magistrate David Tegeler lifted the cap, which means they now owe over $8,000. The daily fines will continue until the mural is removed.
WFTV reports that the city is also considering putting a lien on the property to "motivate" the homeowners to remove the mural. County Circuit Judge William G. Law ruled a month ago that he couldn't stop the city from imposing fines, but granted a stay in any enforcement, so the fines will continue to add up.
Sign the petition
https://www.change.org/p/mount-dora-city-manager-and-city-council-support-mount-dora-homeowner-local-artist
Contact the magistrate who is trying to tear it down
http://sasso-law.com/david-f-tegeler/
David F. Tegeler
407-644-7161
Call the city and speak your mind
John Tucker is the representative for District 3. You can also call his cell at (321) 438-9961 or email him at [email protected]. Tell the council members that you want the Van Gogh Starry Night mural to stay, and that you will boycott Mount Dora if they remove it. Equally important, tell them that you support rewriting city codes to allow art to flourish.