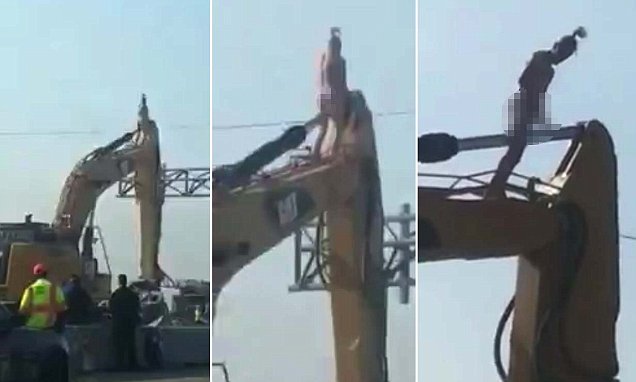 Miami – Shocking video has emerged of a naked man masturbating while straddling the top of a construction digger's arm on a highway.
The video, which appears to have been shot from a moving car on a Miami Beach highway on Sunday, shows the unnamed man stood at the top of a CAT digger.
As the car passes by the man, it becomes increasingly clear that he is naked – and pleasuring himself.
The video, which was uploaded to LiveLeak, shows the car's occupants cheering as they realize what's happening.
But those on the ground are likely less joyful about the situation.
They include a team of construction workers and Florida Highway Patrol officers.
Exactly why the man is touching himself is unclear.
But the LiveLeak uploader suggested it might be due to 'a hell of a drug'.
A spokesperson for Miami Beach Police Department said they have no record of the incident. Florida Highway Patrol has been contacted for more information.
Source: dailymail.co.uk