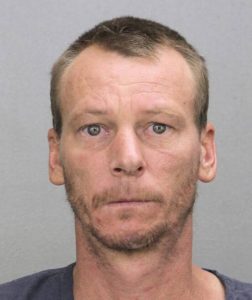 A man is accused of trying to use his Confederate flag-decorated van to take a parking space from an African-American couple.
Donald Lee Hicks was taken to Broward jail. His bond was set at $40,000, $20,000 for each count of aggravated assault with a deadly weapon. The weapon, a 1997 Dodge van, bore the Georgia battle flag (commonly called a "Confederate flag") on its front as Hicks rolled up to a parking spot Saturday morning at 65 N. Beach Rd. in Dania Beach.
Hicks, 28, wanted the space. According to the complaint affidavit, a black couple stood in the space to save it for a family member.
According to the arrest report, he called them the N word and then yelled: "Don't you see what's on the front of my truck?"
Then the New Jersey-born Lake Worth resident hit the couple with the truck, deputies said. Each complained of knee injuries and were treated by Broward Sheriff's Office Fire Rescue.
Hicks' most serious previous encounter with the legal system saw him get six months' probation and ordered to pay $708.61 restitution after a criminal mischief conviction.
The arrest report says Hicks fired a racial epithet at the couple before hitting them
The couple complained of knee injuries
Source:
https://www.miamiherald.com/news/local/community/broward/article91913907.html#storylink=cpy
—
Racism is still in America. Since Florida is the flaccid penis of the United States, it only makes sense that this story would arise from this god-forsaken state.