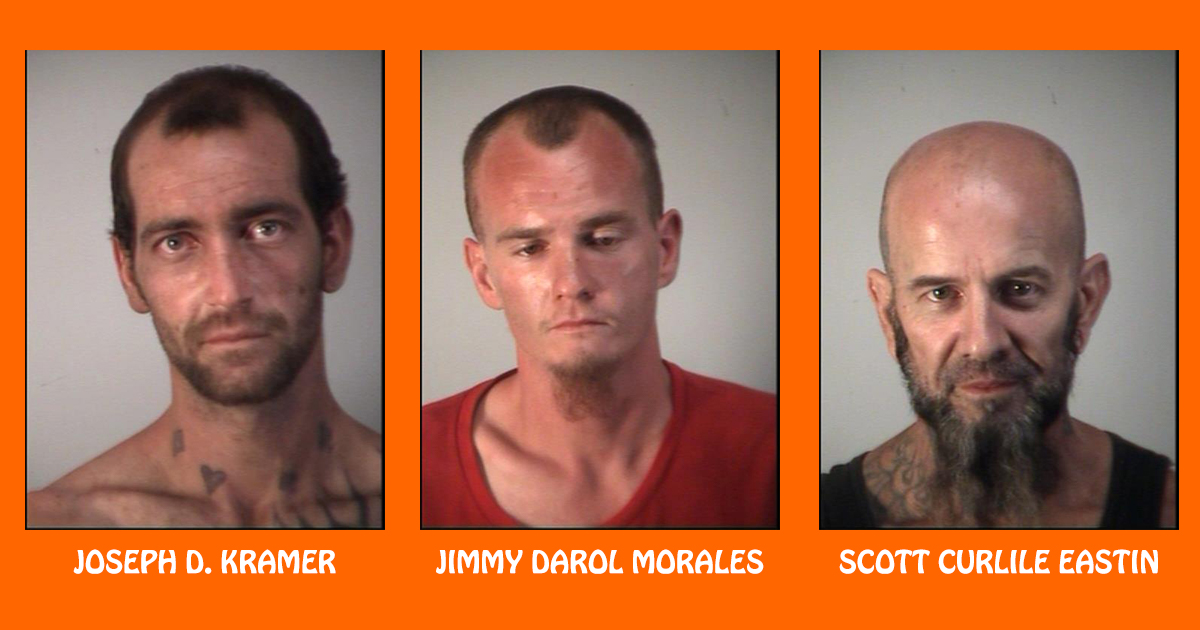 Mascotte (WTFF) – Three Florida men were arrested after an armed robbery led police to their guns and meth.
Around 4 in the afternoon on Tuesday, Mascotte Police officers were flagged down by Jonathan, who just got robbed, according to the arrest affidavits.
Officers drew their guns on the three Mascotte men who were reportedly involved, and detained them in the yard of 127A West Myers Blvd.
Jonathan said he was walking from Bay Lake Road to the arrest location "to give 'Joe' $20.00 to get his cell phone back."
The cell phone was stolen earlier. A witness later told police he was working on Joe's bike at his house around 3:30 pm. A guy named "bo jangles" stopped by at one point, the report mentions, for some reason. The witness appeared to have seen Jimmy take Jonathan's cell phone around that time.
Jonathan saw the second arrestee, 24-year-old Jimmy Morales "next to an open canopy in the backyard."
He gave Jimmy the 20 bucks to get his phone back.
That's when Jimmy Morales "pulled out a pink and black 9mm gun" and told Jonathan to get on the ground.
"Okay man, chill," complied Jonathan.
Jimmy shoved him to the ground and took all his belongings: a Samsung cell phone with a pink case, hair trimmers, a green pocket knife, a blue speaker, a 20 dollar bill, and "a pack of 305 cigarettes" with 30 dollars inside.
"Get the fuck out of here," Jimmy barked.
Jonathan ran off, and that's when he flagged the police down.
Officers found a pink and black Beretta 9mm and a black Taurus .45 in a black backpack under the canopy. Joseph admitted the firearms were his, and that he supplied them to Jimmy Morales.
Joseph D. Kramer seems to have been the ring leader, earning him a Principle in the 1st Degree on all of the following charges: Possession of Firearm by Convicted Felon, Armed Robbery with a Deadly Weapon, and 16 counts of Possession of Ammo by Convicted Felon. He is not eligible for bond.
Kramer was born in Illinois.
Jimmy Darol Morales was charged with the following: Robbery with Firearm, Possession of Firearm by Convicted Felon, 16 counts of Possession of Ammo by Convicted Felon. His bond was set at $220,000.
Morales was born in Douglas, Georgia. He works in "tree care," according to the arrest report.
Scott Curlile Eastin, 51 years old, had a taser and some meth in his pocket, earning him a single charge of Possession of Controlled Substance Without Prescription (Meth).
He bonded out the next day for $2,000.
Eastin is a Florida Native.