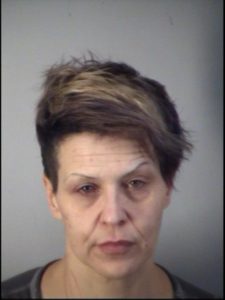 Minneola (WTFF) – A Florida woman was arrested after busting windows and damaging property in her boyfriend's home, while naked, of course.
Her boyfriend was seen running "frantically" from his home on Willow Street on Wednesday around 2:43 p.m., according to the arrest affidavit. He told the arriving sheriff that his live-in girlfriend was "walking around the residence naked and breaking several windows and hitting the residence ceiling."
The sheriff went inside and told her to stop breaking stuff.
"Put some clothes on."
She did.
Reportedly, the boyfriend came home around 2:30 and found her lying naked on his bed, "rambling words and making no sense."
She clutched her boyfriend's cell phone and refused to give it to him. In return, he grabbed her cell phone and held it hostage. She threw the phone on the floor and grabbed a piece of wood board that just happened to be there.
Whack! The board hit the Florida man in the back of the head, leaving a small bump. She hit him twice before he managed to wrestle the wood away.
Jenny Calvert was arrested and charged with Aggravated Battery (Domestic), and Violation of No Victim Contact Order.
The boyfriend had an "active no contact order" against his girlfriend, which earned her the latter charge.
It wasn't clear from the report why someone who had an active restraining order against his girlfriend was letting that same girlfriend live in his home, but this is Florida, and those are the facts.
Later on, several charges were added: two VOP Battery charges and one charge of VOP: Contempt of Court.
Jenny is a Florida Native.