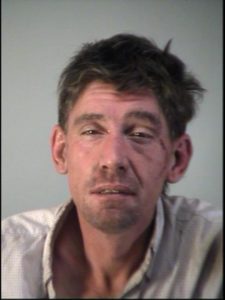 Altoona (WTFF) – A Florida man is facing felony charges after biting a cop for revenge.
On Wednesday afternoon around 5:00, Lake County deputies showed up near a Mobil gas station at the intersection of SR19 and CR42.
According to the arrest affidavit, they were responding to "multiple calls about a male standing in the middle of the intersection dancing and acting erratic."
40-year-old Ernie Wayne Wilburn, born in Eustis, was sitting at a picnic table when officers arrived.
The cops asked if he was feeling okay.
"F*ck you, I'm fine," he replied.
The Florida man "was unable to sit still on the bench and was moving his lips without words, as well as making hand gestures with guns and gun sounds."
A deputy asked if Wilburn remembered him from last time, when cops were called for a similar incident.
"Yea you made me go to the hospital, yall got yours comin," he replied, according to the report.
EMS began to approach.
Wilburn clenched his fists and stood up aggressively.
He was asked to sit back down.
"F*ck you," he told the cop.
That was "followed by other ununderstandable mumbling."
The deputy held his bicep and asked him to please sit down.
That's when Wilburn clenched his teeth into the deputy's skin.
The officer pulled away, but the Florida man's grip was strong, and "would not release."
A knee to the abdomen did not take Wilburn down, though two strikes to the head did.
The officer reports:
"Once on the ground, the defendant looked at me and yelled, 'I told you, you were going to get yours, I'm HIV positive.'"
Wilburn was arrested and charged with attempted murder of a law enforcement officer and resisting officer with violence.
He repeated the same HIV positive statement on the stretcher while under the care of EMS.
Both the arrestee and the officer were treated at Waterman Hospital.