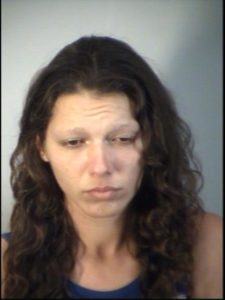 Fruitland Park (WTFF) – A woman wearing a Florida Gators sweatshirt was arrested for possession of meth after neighbors called the cops on her for snooping through their garbage outside.
24-year-old Crystal Bowman was arrested on March 11, after 10:00 PM. She's a Florida Native, made obvious by her attire: a blue Gators sweatshirt, and faded jean shorts with rips in the front.
According to the arrest affidavit, neighbors saw her walking down Eagles Nest Rd. and looking in people's yards. She lives nearby.
While she was perusing the neighborhood she stopped at one house and "pulled a vacuum out of the trash and moved it into a bush."
A neighbor came out and confronted her. She walked back down towards Eagles Nest Mobile Home Park and went into the woods, coming back out after a minute without her pink backpack. Due to the recent crime in the area, the neighbor snapped a photo of her, just in case. They found it very suspicious that she dropped her backpack in the woods.
A Lake County sheriff found the pink backpack, with the name "Crystal" written on it with a black marker. Inside there was Methamphetamine. There was also an "L&M cigarette pack with foil balled up in the bottom," which contained a "crystal like substance" that field tested positive for methamphetamine.
The sheriff looked at the photo taken by the neighbor and went to find her. She was with a man now, according to the neighbors.
According to the arrest report, they had "pulled a mattress down the road" towards the mobile home park, heading east. Sounds like Florida Man…
The sheriff made contact with him and asked him where she was. He said she was inside. Another man showed up and went in the residence, telling the cop he had to wait outside and was not allowed in. The first guy he spoke to said that the residence was his, and like a good southern gentleman he told the cop to go inside and make himself at home.
There was Crystal, in the same clothes as the photo. The sheriff asked if the backpack was hers.
"It depends," was her answer. She identified herself and was arrested.
Crystal's been charged with Possession of Methamphetamine and Possession of Paraphernalia. She's in the Lake County Jail in lieu of a $3,000 bond.
This is her 21st arrest in Lake County since 2012 for various things like meth, narcotics, trespassing, battery, armed burglary, grand theft, grand theft auto, more meth, petit theft, meth again, more grand theft, more trespassing, lots of paraphernalia charges, aggravated assault, driving without a license, and more. It's almost like prison's not very effective.