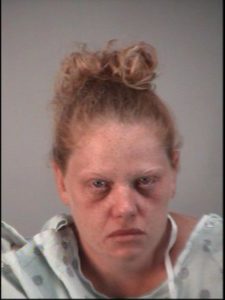 Clermont (WTFF) – A Florida woman was arrested after allegedly stealing merchandise from Target, striking an employee, and fighting officers.
Late Thursday afternoon, 33-year-old Amanda Miller was perusing the aisles of the Target on 50. According to the arrest affidavit, the loss prevention associate saw her sticking items in her purse. He pulled his security card, and told her to come to the back office.
He placed her hands behind her back, when suddenly, BOP! The Florida woman punched him in the face and ran.
The security employee chased her, as well as another employee and a witness. The Florida woman ran outside, and went to the first place she could think of: McDonald's.
Clermont police officers found her inside the McDonald's on 50 and arrested her, but not without a fight. "She immediately pulled away from officers while being placed in handcuffs."
Though she refused to answer any questions, she did "make spontaneous utterances," such as:
"I did not mean to hit him," and "You recovered everything so let me go."
They did not let her go. She was taken to the Lake County jail while kicking the back window of the cop car, screaming and yelling. The officers moved her into a more secure vehicle "with a half cage" as she kicked at them. Eventually she was put into leg shackles. She continued yelling and screaming.
Then she passed out.
The Florida woman was immediately transported to South Lake Hospital where the staff administered a sternum rub.
Upon waking, she broke out of the leg restraint and had to to be placed in four-point restraints. Eventually she calmed down.
The report states that hospital employees were able to "address her medical needs," but did not mention anything about mental health care or future medical checkups.
She was taken to the Lake County jail and charged with Retail Theft, Battery Touch or Strike, Resisting a Merchant, 2 counts of Resisting Officer Obstruction Without Violence, and 2 counts of Assault on LEO. Her bond remains unpaid at $9,500.
Amanda's a homeless Florida Native.