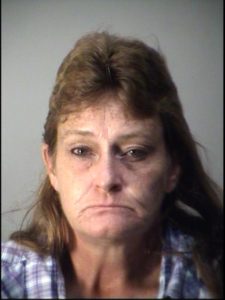 Deland (WTFF) – A Florida woman was arrested for violating probation from a previous domestic abuse charge.
Deputies responded to a 911 call on Dogwood Ave. in Deland Sunday night. According to the arrest affidavit, a Mr. Coker was the caller.
48-year old Barbara Coker was reportedly at the caller's home and "kicked open his bedroom door" yelling obscenities. Presumably they are married, as they share the same last name.
She accused him of smoking methamphetamine, and told him, "go ahead and call the cops, I don't give a shit" when he picked up the phone.
She left in her friend's blue Dodge minivan. Cops went to her residence on Country Rd. in Eustis.
The first thing she said was "I've been here all night."
The Orlando-born Florida woman was arrested and charged with contempt of court injunction protection domestic violence. She remains in the Lake County jail on a $10,000 bond.