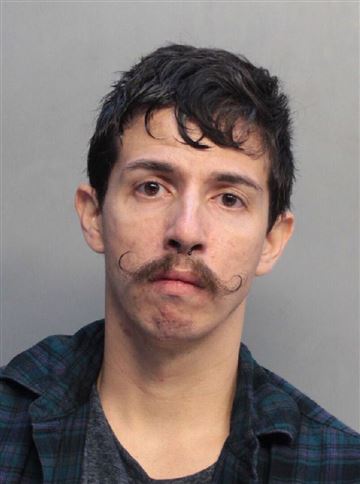 Miami (WTFF) – A Chicago man with a ridiculous mustache was removed from an American Airlines flight heading out of Miami after allegedly groping a woman.
When Florida Natives complain about Transplants and Tourists, these are the types we're talking about…
28-year-old Jacob A. Garcia was onboard a flight heading from MIA to Chicago, when he reportedly started groping a woman in front of her boyfriend. (Miami New Times)
Flight attendants asked him to change seats, but he just "began to scream and insult [the woman]… and her boyfriend."
Three Miami-Dade Police officers struggled to remove him. (NBC News)
"What is the reason why you are removing me from this plane?" demanded the Chicago man.
A Floridian can be heard saying, "You just assaulted a lady, for one." Another Floridian said "You're a racist, for two."
The Chicago man showed Florida Man strength when tased, withstanding 10 zaps for a full 50 seconds by locking his feet around the legs of the seat.
What Happens When You Taser Someone?
They eventually pulled him off the airplane as Floridians chanted "get him out!"
Inside the terminal, he purposely fell to the ground trying to shake the cops, and reached for an officer's gun several times. Once inside the police cruiser, he "kicked the driver-side rear window out of alignment."
Jacob was charged with felony battery, depriving an officer of a firearm, criminal mischief and disorderly conduct. He was taken to the Turner Guilford Knight Correctional Center.
His home is in Chicago. Now he truly knows the meaning of "come on vacation, leave on probation." Chances are he will be back. This one's a Florida Man in the making.
The flight which was scheduled to depart at 9:30 p.m. ET, took off at 10:34 p.m. ET "with all remaining passengers."
Video sources: YouTube, Facebook