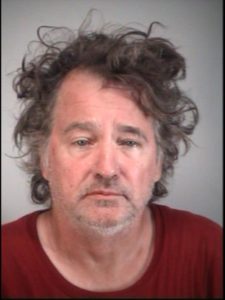 Lady Lake (WTFF) – A Central Florida man was arrested after stealing an ambulance from a hospital in the world's largest retirement community.
61-year-old Danny Konieczny allegedly stole the Rural Metro ambulance from The Villages Hospital late Tuesday night.
He was born in Illinois, another fantastic breeding ground for future Florida Mans.
According to the arrest affidavit, a Lake County sheriff was able to track down the ambulance via the onboard GPS. The ambulance was parked in Danny's neighbor's driveway on Gregory Rd.
The sheriff had dealt with Danny earlier that day, responding to a call while he was being transported from Lake EMS to the Villages Hospital. Because he had made suicidal statements while being transported, the officer was concerned for his well-being and went inside the open front window into Danny's home.
The suspect "was found hiding in the garage inside the trunk of a vehicle."
When asked about the incident, Danny said that he "made sure there was no one in the back before he left, or he wouldn't have taken it."
He complained that "he was upset because he was just put in the hallway to wait and was not being seen at the hospital."
Sumter County sheriff's arrived as well, and said that Rural Metro had live video feed of the suspect driving.
Danny was arrested around midnight Wednesday morning, and the ambulance was turned over to Rural Metro intact.
At the jail he mentioned that he was angry at his neighbor for calling the cops on him during the first incident, which is why he parked the ambulance in their driveway.
Later on, a Violation of Probation DUI charge was added in addition to the Grand Theft Motor Vehicle (Ambulance) charge. His bond remains at $10,000.