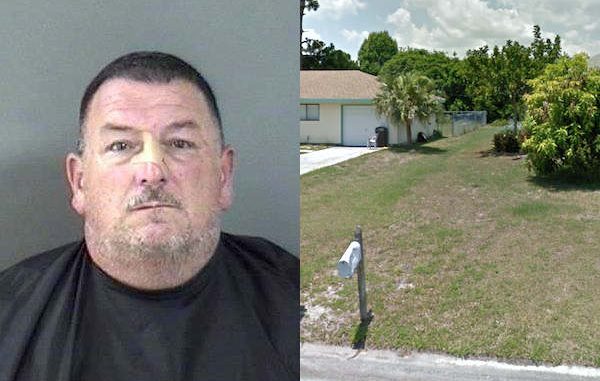 (WTFF) – A man in Vero Beach was arrested after attacking his neighbor with a wooden rake over a lawn mowing disagreement.
It all started in the 2300 block of 12th Avenue.
An unnamed man, let's call him "Friendly Neighbor," was out living the American dream and driving his riding lawn mower around his yard to bring his landscape to aesthetic perfection.

54-year-old Jeffrey Michael Meurer heard the gas-powered chopping noises and poked his head outside to investigate.
Jeffrey uses a push mower with a bag that collects cut grass. He hates the fact that Friendly Neighbor uses an infernal machine that blows grass around. Lots of that chopped grass ends up in Jeffrey's yard and he's "tired of that," as he told cops later.
Jeffrey decided enough was enough, and invoked the powers of Florida Man with this incantation:
"Don't you get your grass in my yard!"
Friendly Neighbor simply ignored him.
Jeffrey fumbled his obese body towards Friendly Neighbor and yelled more. The two started arguing and yelling at each other. Friendly Neighbor had it coming… Sebastian Daily reported his statement of what happened next:
"Seconds later, I feel a hard impact to my face which startled me. I jumped off my mower and saw Meurer holding a wooden rake as if it were a bat."
The two men started fist fighting for a few seconds, and when Jeffrey got punched in the face he "took off running into his home," according to the police report.
He had a bloody nose. When the cops showed up he stated that Friendly Neighbor tried to run him over with his riding mower. Jeffrey elaborated:
"So I defended myself by hitting him with the back of my rake."
Right… Deputies spoke to a witness who saw the whole thing and confirmed that Jeffrey was full of it:
"I couldn't believe what I had just seen. [Friendly Neighbor] then begins to fight with Meurer until he runs into his garage and closing it behind him."
Jeffrey Meurer went to the Indian River County Jail on a charge of Battery.
---
Still a better fate than this guy: