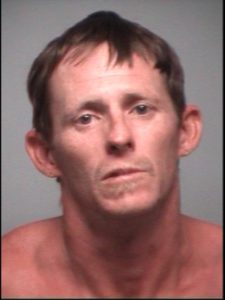 Deland (WTFF) – A Florida man was arrested after smashing things in his home with a hammer and threatening to kill a man who he accused of sleeping with his girlfriend.
Jason Gary is 38-year-old Florida Native. He was reportedly "under the influence of alcohol" and arguing with his girlfriend about infidelity, according to the arrest affidavit. The man he accused of sleeping with her was in their home on Fonseca Lane, a dirt road in Deland.
According to the victim's report, Jason was walking around his home smashing things with a hammer on Tuesday evening.
"I'll break everything in this house and then you're next," screamed Jason to the accused man while pointing the hammer at him.
He then walked into the bathroom with his girlfriend, came back out, and broke a coffee table. After that, he allegedly threatened to kill the victim by breaking his neck.
His girlfriend told the sheriff's that her boyfriend and the victim "had gotten into arguments before" but it never got to this level of violence.
It wasn't clear from the report why the victim was in Jason's home, but then again, nothing in Florida makes sense.
Jason was charged with a felony offense of Aggravated Assault with Deadly Weapon Without Intent to Kill. His bond remains at $2,000.