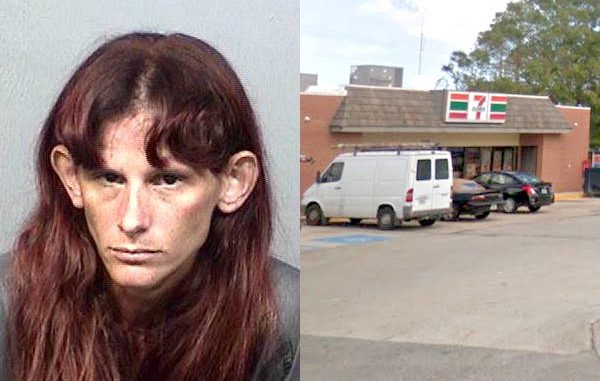 It was about 2 in the morning in Melbourne, FL.
Stephanie L. Hicks, 31, had the munchies, and pulled into the 7-Eleven at 1262 Aurora Road.

She strolled into the store and happened upon the food section. For anyone hungrily walking into a gas station in the middle of the night, a discovery like this usually solves all your problems and puts you in a great mood. Not Stephanie…
Perhaps she was too drunk to figure out how to use the hot cheese dispenser… She started to fumble around with it and tried to open it.
A clerk spotted her and politely asked her not to open the hot cheese dispenser.
She didn't like her attitude, according to a police report obtained by palmbaydaily.com
When she walked up to the counter to pay for a sandwich and the cheese she managed to get out, the clerk denied her service.
Florida Woman kicked in, and compelled Stephanie to throw the sandwich and cup of hot cheese across the counter, hitting the clerk.
She marched towards the exit, and before leaving, turned around and defiantly yelled:
"The customer is always right!"
The clerk stood there dumbfounded, with yellow nacho cheese dripping down her hands and feet. The floor and register were covered with the delicious dairy product as well.
She was arrested and taken to the Brevard County Jail, charged with Battery.
DISCLAIMER: Arrests and mugshots were made public by complaint affidavits, arrest affidavits, and police reports. All persons arrested are innocent until proven guilty.